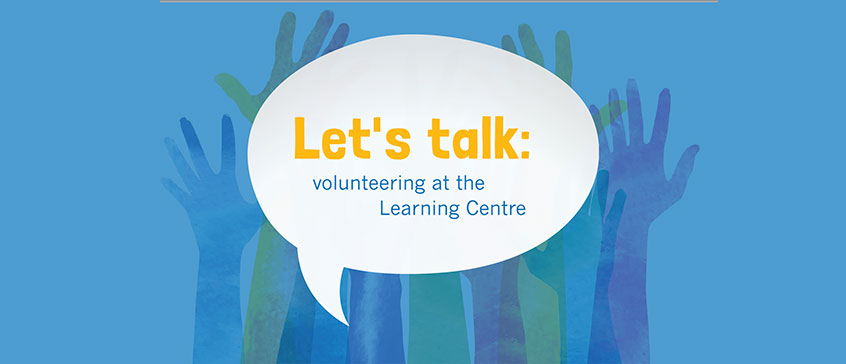 By Jo-Anne Clarke, Dean, Continuing Studies
"Tea is on," shouts Cam Culham, the learning support instructor at the English Language Centre's Learning Centre. "Today is mint—come on in and help yourself." A seasoned language teacher and professional actor in Victoria, Cam is a natural community builder who has a gift for helping people connect. Each day he helps anywhere between 15 and 20 volunteers connect with 60 to 95 international students who come to the Learning Centre to hone their English language skills. For students of all levels, the Learning Centre is a safe place to learn and practice.
For volunteers like Jane Usher, it's an opportunity to put her experience and skills to use. "I have been volunteering at the well-run Learning Centre for eight years and it is the best volunteering job I have ever had. Not only do I enjoy meeting interesting students from around the world, but I also like the rewarding, sometimes challenging, process of assessing their levels of fluency and helping them to improve."
Brian Woodend is a retired high school ESL teacher and the resident expert in grammar and editing. He has been volunteering with the Learning Centre for 20 years. According to Brian, "Time flies when you are having fun—and it is fun! It really is. When I had been retired for a couple of years, I realized that I missed teaching something once in a while."
Although a number of volunteers are former teachers, it is certainly not required. All you need is an interest in meeting a wide variety of young people and a willingness to engage. And for those people who need some help getting started, the Learning Centre has plenty of resources to help. There are games to play, maps and brochures to refer to, teaching resources, and even a card set of conversation prompts to draw upon at each table.
Some volunteers, like Bill Radlein, are regulars who have made the Learning Centre part of their weekly routine. Bill is the Learning Centre's very first volunteer and after 29 years, he still enjoys meeting young people and swapping stories.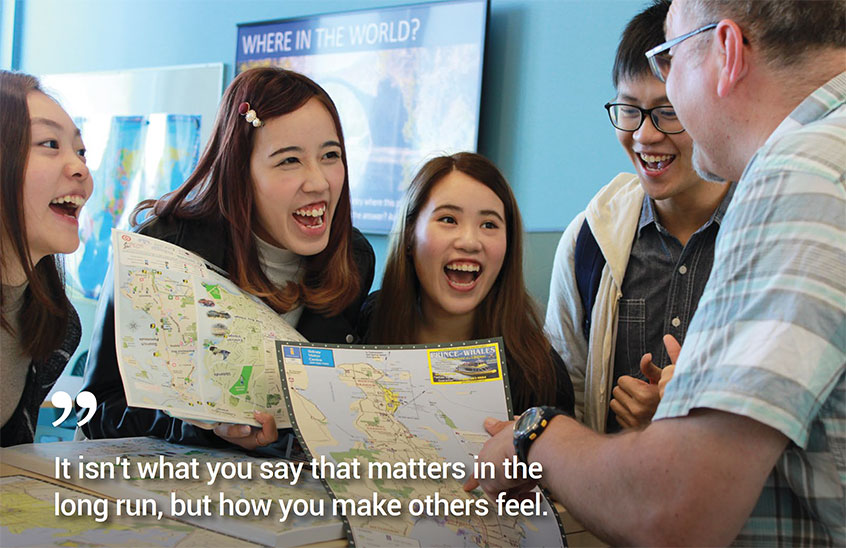 For others like Pam Munch, the flexibility to drop in is a real asset. "I am not committed to a particular day to volunteer, but the day I work will guarantee me the joy of seeing a set of friends (some even older than I) who have pulled themselves out of warm beds to take a bus, walk or drive to the Learning Center, only to be greeted with a pot of warm tea by Cam. He always remembers names and makes us volunteers understand by example that it isn't what you say that matters in the long run but how you make others feel."
This feeling of community is really the magic of the Learning Centre; it's a place where everyone feels welcome, respected and valued. Beverly Suzuki started volunteering with the English language programs three years ago. Reflecting on her experience, she says, "I am encouraged when I see the students mixing with each other, learning about each other's countries and cultures. I picture them returning to their home countries and being ambassadors for tolerance, respect, and understanding of different cultures and peoples. Since meeting so many young people from the English language programs, I have become more optimistic about the future." What could be better than that?
The Learning Centre is open from 10 am to 4 pm Monday through Thursday and located on the second floor of UVic's Continuing Studies Building. If you are interested in volunteering, email us at tlcelc@uvic.ca or drop in for tea.