Updated on April 20, 2022: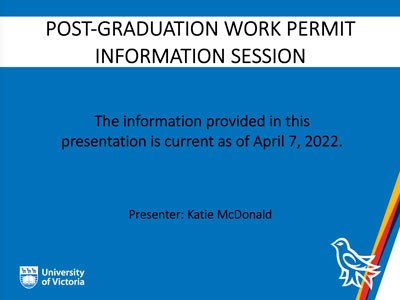 View slides
This event took place on Thursday, April 7, 2022. Below are the presentation slides from the presentation:
Are you an international student? Are you about to complete your UVic program or have you recently completed your UVic program?
You may be eligible for a post-graduation work permit (PGWP) to stay in Canada to work after graduation.
Information session topics include:
What is a post-graduation work permit?
Who can apply?
How to apply?
Validity period
Documentation needed to apply
COVID considerations
Frequently asked questions
Audience: UVic Division of Continuing Studies students