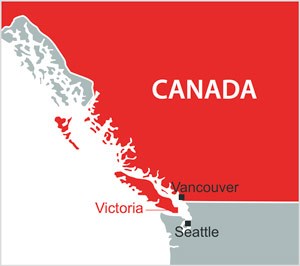 Victoria is an amazing place to learn English and explore Canada. It's a small city with a big heart! You'll find the same shopping, restaurants and festivals that you might find in a large city, but it's also safe, friendly and beautiful. In addition to this, Victoria has the mildest winter in Canada. We feel very lucky to call this city our home.
Throughout the year, you'll find Victorians enjoying outdoor activities such as hiking, kayaking or camping. There are also lots of fun indoor activities to enjoy. Visit the Tourism Victoria events page to see what's happening in our city right now.
We're located on the southern tip of Vancouver Island, just a short trip to Vancouver and Seattle by ferry or plane.
Victoria quick facts:
367,000: population of Greater Victoria
50% less rainfall than Vancouver
Visited by +1 million tourists each year
Mildest climate in Canada
Capital city of British Columbia
20-minute flight to Vancouver or Seattle
+ 200 downtown restaurants and pubs
Great cafes, beaches and music scene
World-famous gardens and outdoor activities
Training centre for Olympic athletes because of mild weather
Beautiful, clean city
Welcoming and supportive community for international students