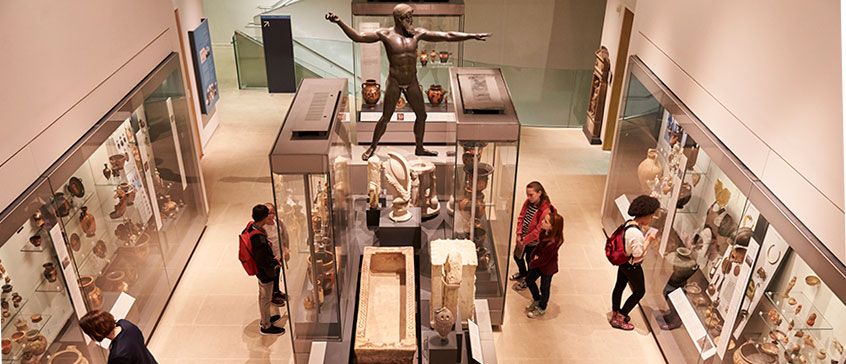 Course description
The course is all about developing our practice in creating exhibitions that connect and communicate to their audiences effectively. As a foundation, we will analyze what makes certain exhibitions successful and how to look at exhibitions with a critical eye.
While we will explore the entire planning process—from concept to fully realized design—the main focus of the course will be on the story. Mastering the art of interpretive planning is vital to the creation of exhibitions that work. We will look at the principles of powerful interpretation, the construction of a story and the ways in which content is written to best effect.
The course relies heavily on real life examples and practical exercises. You will also gain experience in planning an exhibition through collaboration as a member of a team.
Learning objectives
Become familiar with the diversity and roles of interpretive exhibitions.
Learn to critically analyze what makes a successful exhibition.
Consider the characteristics of visitors, their needs and learning styles.
Understand an exhibition as a medium of communication.
Understand what makes an engaging visitor experience.
Understand the exhibition planning process, and the roles of key team members.
Develop your expertise in writing exhibition text.
Understand how to shape a successful Interpretive Plan.
Understand the role of visitor evaluation and how it can improve your interpretive content.
Develop your expertise in translating an interpretive plan into a design.
Prerequisites
Note: though not required, prior experience in a cultural organization would be an asset for success in this course. Please contact the Program Office if you have any questions or concerns.
Instructor
"I believe that museums can change peoples' lives."
Tim Willis is one of Canada's most experienced museum professionals. During his 25 year career, he has led the creation of more than one hundred exhibitions, helped museums to shape their long-term visitor experience strategies, and been a strong advocate for the power of museums to change and enrich peoples' lives.
After moving to Canada, Tim worked in private practice to plan several of Alberta's heritage interpretive centers including Head-Smashed-In Buffalo Jump. In the late 1980s, Tim joined the Royal Alberta Museum as head of Exhibitions and Marketing. Under Tim's leadership, the Royal Alberta Museum developed one of the most active exhibition programs in Canada. From 2001 to 2006, Tim led the development of a new visitor experience - part of the Royal Alberta Museum's $180 million renewal project.
Joining the Royal BC Museum in September 2006, Tim's focus was to create a long-term vision the entire visitor experience. He also headed some of the Museum's most intriguing and successful exhibition projects. In 2013, Tim decided to work independently sharing his knowledge and experience with students and advising museums and other clients.
Registration details
Online registration temporarily unavailable
Sorry, this course is not available for registration at this time.
This course is in progress. Please contact us for more details.
Online registration is closed for this course. You may still be able to register by phone. Call 250-472-4747 to find out.
This course is on your wish list. You will be notified when this course becomes available.