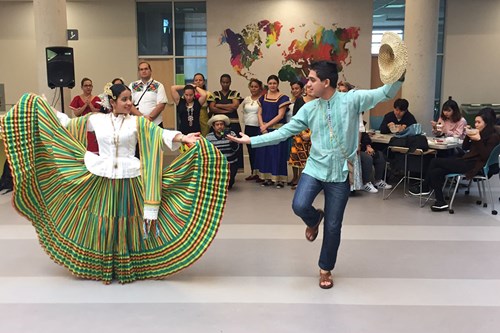 UVic's international community is reaching beyond new borders as host to educators in the Panama Bilingüe program, a visionary professional development initiative launched by the Panamanian Ministry of Education. The program seeks to strengthen Panama's public education system by enhancing the English language skills and teaching methodology of teachers throughout the country—10,000 teachers no less—by 2019.
Recognizing a unique opportunity to combine its diverse expertise in English as an Additional Language (EAL), teacher-training and distance education, Continuing Studies staff led by UVic English Language Centre (ELC) Director Jacqueline Prowse navigated a lengthy proposal process that eventually led to UVic's designation as one of only seven host institutions for Panama Bilingüe, and the only university on Vancouver Island. 
To date, two cohorts and a total of 39 Panamanian teachers have completed their combined English language and methodology education studies at UVic, and the learning experience for those involved has been transformational.
These educators came from every corner of the country—from Panama City to remotest Darién—to improve their teaching capacity and contribute, teacher by teacher, to raising the standard of education throughout Panama.
Equipped with updated methodological strategies, improved English skills and, most of all, the expanded world view that comes from living outside one's culture, there is little doubt these teachers are ready to make a vital impact of their own in the lives of their students and the future of their country.
Hosting Panama Bilingüe students has likewise offered an invaluable transformational opportunity for the Division of Continuing Studies and wider campus community.
UVic's International Plan commits to welcoming international students to UVic "as an inspirational new home, to foster life changing intercultural learning" and to increase international student experience.
Prior, during and after the program, dedicated collaborative efforts between staff in UVic's Division of Continuing Studies have ensured that the Panama Bilingüe experience has been truly exceptional here and that participating groups have enjoyed every opportunity to engage in a rich and rewarding community life on and off campus.