When you take a course or program at Continuing Studies, you get access to the following services:
Campus security
If you get hurt, feel unsafe, or see anything suspicious while you're at UVic, call Campus Security at 250-721-7599.
Campus security is located by the Bus Loop and is open 24 hours a day, 7 days a week. A "safe haven" is located just inside their front doors should you need help at any time.
Security officers act as First Responders trained to handle all medical emergencies.
Security Officers will also escort you from building to building on campus if you need. This is called Safewalk and is available to anyone within the campus boundaries.: call 250-721-7599
Learn more by visiting Campus Security Services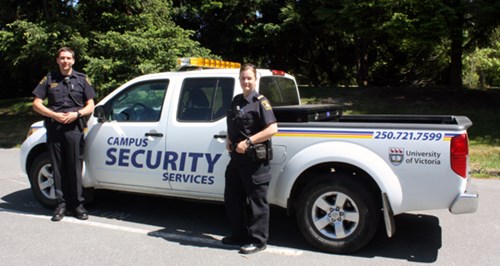 Safety tips
Be alert and aware of your surroundings
Trust your instincts
Plan your route and vary it, if possible
Park in well-lit areas
Keep your vehicle locked
Have your keys ready before you get to your vehicle
Check interior of vehicle before entering
Wallets and purses are attractive targets to thieves. Don't leave them unattended or in unlocked rooms.
Emergency preparedness
Although major emergencies on campus are unlikely, it's a good idea to be prepared. Here are a few tips to help you respond when the unexpected happens.
Sign up for the UVic Emergency Alerts to get an emergency text message.
Use texting, not calls, to let your family know you're safe.
At the time of an emergency, check the UVic website for information.
Medical emergency? Call 911 and Campus Security Services at 250-721-7599. Give your location.
Fire? Pull the fire alarm and get out of the building: follow the instructions of the emergency coordinators wearing orange vests.
 Earthquake? Drop, cover and hold on. Do not leave the building until the shaking stops. Go to the playing fields behind CARSA and stay away from the buildings.
Threat of violence? Protect yourself by getting out, hiding or—as a last resort—take action.
If you evacuate a building, take your wallet, keys and mobile phone with you.
If you see something, say something: call the Campus Security emergency line at 250-721-7599 to report an emergency, unusual behaviour or personal safety concern.
For more in­for­ma­tion on Campus Security Services, pro­grams and safety tips, call 250-721-8981, or visit their website.
---
W.C. Mearns Centre for Learning, McPherson Library
Continuing Studies students taking any non-credit course may receive borrowing privileges. Visit the Loan Desk to obtain your Community Borrowers card.
For detailed information about UVic Libraries, borrowing and resources, see the Libraries' website.
Students residing outside Victoria have access to the library too! Contact the UVic Library Infoline for more information.
The association offers a host of benefits and services that link alumni with their university. Visit us and learn about our events, programs and services. The UVic Torch Alumni Magazine is mailed free of charge twice each year and we distribute a monthly electronic newsletter to all alumni who provide their email address.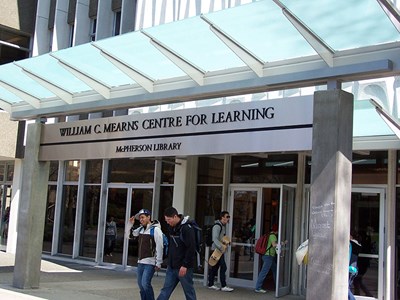 ---
Food services
There are many places where you can buy food and sit down to eat on UVic's campus! Below are five locations that accept cash, debit, credit card and ONECard:
Mystic Market - Located in the Jamie Cassels Centre, directly across Ring Road from the Continuing Studies Building. Mystic Market contains the Boardwalk Cafe coffee shop and several food outlets.
Starbucks - Located below the bookstore.
The Cove - This is the new dinning hall next to the student union building. The Cove has 10 food kiosks which include vegan, vegetarian, dairy-free and gluten-friendly options.
and more
View full list of locations and hours
---
Academic accommodations
Sometimes this means providing academic accommodations to reduce barriers and provide different ways of meeting essential course or program requirements.
Learn more by viewing Student support
---
UVic Alumni Association
The UVic Alumni Association represents all graduates of the University of Victoria, including graduates of diploma and certificate programs. We encourage active, lifelong involvement in the university's teaching, research and community outreach efforts.

---
Getting to campus
Most of our Continuing Studies courses are held on the University of Victoria campus. For information on finding your classroom, bus routes and parking on campus, please view our Getting to campus page.
---
Still have questions?
Take a peak at our Info for students FAQ page or ask a question.