The Division of Continuing Studies (DCS) has an International Student Advisor (ISA) who provides non-academic support of immigration advice related to being a student (e.g. study permit, work authorization) throughout your program of studies at the DCS at UVic.
Katie McDonald (ISA) is a Regulated International Student Immigration Advisor (RISIA S712752) who can provide advice about Canadian immigration documents and how UVic policies relate to your international student status. She has worked with the Student Services Admissions team at DCS since 2009. Katie has also worked as a regulated immigration practitioner with students in DCS non-credit programs since May 2019. 
Please note: Katie can only provide advice for the program of study that students are currently registered in with the DCS. She cannot advise students if they are asking about adding more programs, switching into programs at UVic or enrolling into programs at another institution. Katie is available to answer immigration questions related to the current program of study by email, or in-person appointments on Thursdays and Fridays. Appointments are unavailable on statutory holidays or scheduled office closures. 
Please also note: Katie cannot complete your immigration applications for you or advise on Permanent Residence (PR) programs. Students seeking immigration representation or PR consultations should consider hiring an authorized immigration representative.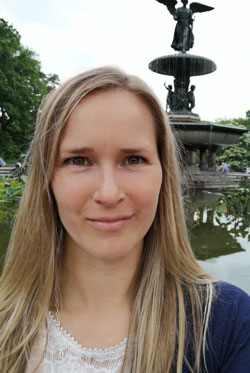 Katie McDonald, Regulated International Student Immigration Advisor
In-person appointments
To make a 20 minute in-person immigration advising appointment:
you can make an appointment to meet in-person through the following online booking web site: https://uvictoria.mywconline.net/
to book an appointment, please click on the 'Students log in here' button and create an account. You will then be able to view the schedule and select a time. 
on your appointment day: visit the Continuing Studies Building Registration Office (room 240), and check in with the Student Services Team.
Prepare for your in-person appointment with the following:
Student number (V#) or UVic ONECard
original or copy of your Canadian temporary resident documents (e.g. study permit, work permit, temporary resident visa) and passport
any other relevant documents you have that may be needed for the consultation
your list of questions
By email
Emailing uvcsimmigration@uvic.ca is another great way to connect with Katie. However, if you need more immediate assistance, it might be faster to make an in-person appointment as she is currently the only advisor for more than 1000 students.
When emailing our office, be sure to use the email address on your UVic student record and include the following:
your questions
your student number and full name
your country of citizenship, study permit expiry, passport expiry
where you are currently residing (in Canada or elsewhere)
*Due to the large volume of requests often received in office, we do kindly request that students do not send multiple emails as this can delay response times. Everyone's inquiry is equally important, and Katie works to respond as quickly as possible to all student inquiries in the order they are received. Your patience is greatly appreciated.
You may also wish to review the DCS web pages for more information about Immigration documents, study permits,  entry documents and Working in Canada.
Advice for parents, guardians, and supporters of international students
We know that support is important for a student's successful transition to university. If you play a supporting role in your student's life, here are two helpful tips:
British Columbia's privacy legislation strictly limits the information that we are able to disclose to anyone other than the student in question.
if a DCS student is unable to communicate with our office regarding their own record, they may designate a proxy to act on their behalf. Contact uvcsimmigration@uvic.ca for further information.
Legal notice
CICC licensee obligations and complaints process
As Regulated Canadian Immigration Consultants (RCICs) and Regulated International Student Immigration Advisors (RISIAs), UVic International Student Advisers are regulated by the College of Immigration and Citizenship Consultants (CICC). As such, they are subject to the Code of Professional Conduct for College of Immigration and Citizenship Consultants Licensees, but the obligations set out in sections 23 (requirement to enter into a written consultation agreement) and 24 (requirement to enter into a written service agreement) do not apply.
The College reviews, investigates, and resolves complaints about RCICs and RISIAs who may have:
Failed to comply with the Code of Professional Conduct
Been incompetent
For more information on the College's complaints process, visit the College of Immigration and Citizenship Consultants website.