Interview with Jan Henry, Graduate, French Language Diploma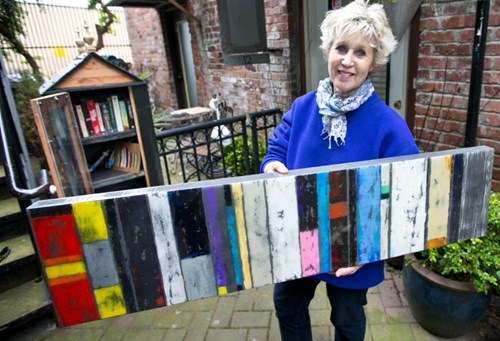 Tell us a bit about yourself — what is your background (personal/career/etc.)?
I'm Canadian, and I have lived in Victoria for the past 15 years. I've had two, thoroughly enjoyable ex-pat experiences.  I worked as a radiographer in Bermuda in the 1980s, where I married and where my eldest daughter was born. From 1995–2004 our family (including a second daughter born in Victoria) lived in Saudi Arabia, where I taught ESL, an experience that provided me with a rare opportunity to meet Saudi women.
Do you mind if we ask your age?
Not at all. I'm 60.
What's your primary occupation at present?
I'm retired, and my primary occupation now is art-making. Making art is an enormous part of my life and it is probably the single activity to which I devote the most time. I'm an abstract painter, but I also have an interest in sculpture using found materials. Increasingly, art instruction is becoming an important part of my art practise.
Is there a formative experience from your past that maintains its relevance or inspires you in your work/life now? Please tell us a bit about it.
An extremely formative experience was attending art school for several years upon my return to Canada. The courses I studied and the other artists I met continue to inspire me.
Tell me a bit about what inspired you to start taking the French Language Diploma Program.
I started the program in 1988 in order to continue French studies that had begun in Bermuda. I returned to the program in 2016 in order to improve my fluency following several holidays in France.
What did you enjoy most about the experience?
I'm interested in languages, in particular French, and I have discovered that I learn the most in structured settings such as French Language Diploma Program (FLDP). I thoroughly enjoy the balance of written assignments and conversation.
Describe what it's like in your classes.
All of the classes I have attended have been small, which is wonderful, and it is usually with a group of like-minded individuals interested in working hard to learn French.
What inspired you to come back to the program after each break?
After several long-distance holidays in France, where my lack of proficiency in French frustrated me, I returned to the program. I also enjoy the process of language-learning, the intellectual challenge.
How did learning through Continuing Studies fit into other aspects of your life?
It fits in nicely (with day and evening course options), and my geographic proximity to UVic is an added bonus!
Are you engaged in learning something new? 
Learning French! And my studies will continue now that I have graduated from the FLDP! I have recently discovered the French Language Conversation Classes  (FLCC), which will be a wonderful way to continue my French studies.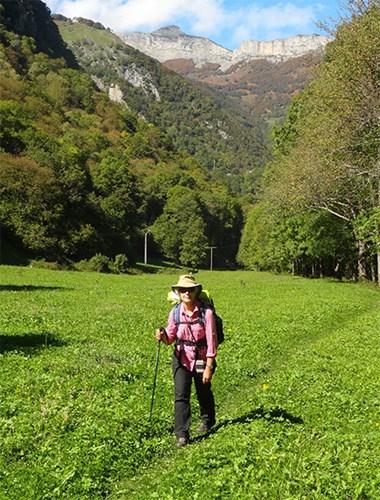 What one unusual experience would you recommend everyone try at least once in their life?
I would encourage everyone to try a long-distance walking holiday, ideally carrying your own pack and with a minimum of electronics. The rewards of attempting the physical challenge and also having the opportunity to pass through countryside at a walking pace are unparalleled. My husband and I have now walked over 2,000 km in France and Spain, and we look forward to many more walks.
If you could, what one thing would you like to change/improve about the way we all experience life in the world today?
I would love to see individuals spend less time looking at various screens and more time being mindful of being "present".