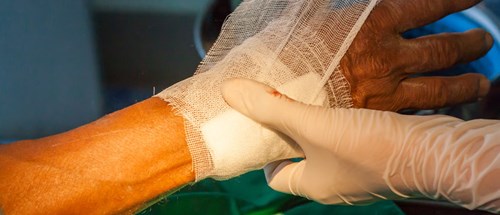 Dezi Grant earned her Certificate of Completion in the Wound Level II course in the Spring of 2018. She resides in Edmonton, Alberta.
Please share a little about yourself. Where do you live? What do you currently do for work? What do you enjoy doing in your spare time?
I'm a licensed practical nurse who works in Edmonton's inner-city with the homeless and low income folks. In my spare time I love going to the gym, reading and movies!
Why were you interested in taking the Wound Management for Health Professionals program at UVic? What were you hoping to get from it?
I have a real passion for wound care. When I first got into the idea of nursing, I wanted to be a real go-to person for all things wound. When I took the Wound program through UVic, I was hoping to make myself more employable and most importantly, I wanted skills to help give my community good quality care. 
Why did you decide to register in the Wound Management program vs. others offered elsewhere?
I liked the idea that the Wound program was doing learning online with a reasonable amount of work. The course outline was very descriptive and I really liked the sound of what was offered.
What did you enjoy or appreciate most about these courses?
I enjoyed the practical day where we all met more than I thought I would. I was able to talk one on one with some amazing health professionals and got some great motivation and insight. It was great to hear people from other backgrounds in this course. I really appreciate that the course was very informative without a ridiculous amount of course work. I wondered if I would be missing out due to the course's layout but I found everything so well detailed and helpful I knew I was getting great information.
Can you describe a time that you have used what you learned in the Wound program? How did this training help you?
I use what I learned in the program nearly every day at work. I see a lot of vascular wounds and infections. This has helped me educate other professionals that I may come into contact with. Also, I have been able to actually prevent a few amputations from happening! Without this training, some folks may have lost some fingers or their leg.
In the Wound Level II course, students give a presentation on a wound care product of choice. Please share what you presented on, and why it was relevant to you.
My presentation was on the use of petroleum jelly on non-infected wounds. This was something I had been curious to research. Due to working for a non-profit agency, we have limited supplies. I wanted something that would help prevent / treat some wounds. I wanted to find out what was out there on this product after I used it a few times in practice.
Now that you have completed the Wound Management program, where do you see yourself going professionally?
I hope to continue working with the homeless / Indigenous population but maybe in the future, a rural community.
Who would you recommend the Wound Management program to? Who do you think would benefit from taking it?
I honestly feel anyone who works frontline that may see wounds and injuries [would benefit], including physicians. I believe being knowledgeable in this line of work is really crucial for the future of how people look and address wounds. Many people to this day still think rubbing alcohol and polysporin are the answer to everything, and that every draining wound is infected.
Any additional information you'd like to share?
This course was so wonderful, I would love if there were more courses offered on wounds and different types to keep our knowledge up to date.