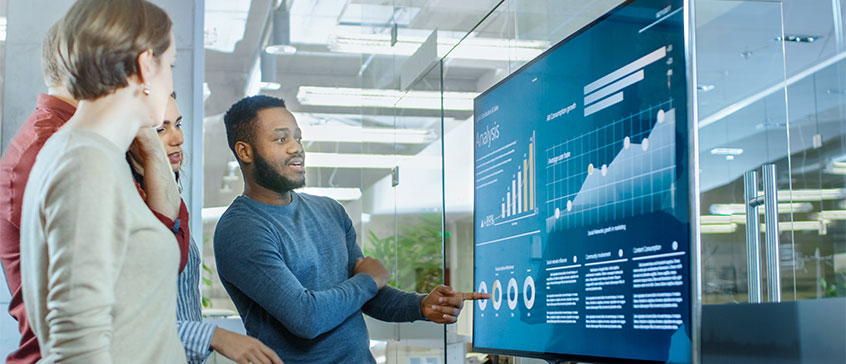 Course description
Develop your skills in data visualization and reporting. Learn how to use common industry reporting and visualization tools such as Excel and Tableau. You will also learn how to evaluate strengths and weaknesses of various data visualization techniques and the fundamentals of dashboard design for various types of reporting.
Learning objectives
By the end of this course, you should be able to:
Recognize the difference in purpose between real-time reporting, scheduled reporting and on-demand reporting
Evaluate different strengths and weaknesses of various data visualization techniques and demonstrate how these visualizations assist with decision making
Apply heuristics to 'report design' based on need
Apply BI fundamentals of goals, objectives, measures, metrics, KPIs and performance statistics
Apply judgement to data visualization regarding ethical concerns and practices
Perform the following basic tasks in Excel and Tableau:
Import cleaned and compiled data
Perform conditional formatting functions
Present data in usable charts, graphs and tables to enable effective interpretation
Create dashboards and reports to meet specific user needs
The practical components of the course are predominantly taught using Excel and Tableau, while the application of these concepts is briefly shown in Microsoft Power BI, Shiny and Python.
Prerequisites
It is recommended that students have completed either:
or
or
Have experience using formulas in Excel
If your first language is not English, you will be asked to provide evidence of fluency through the submission of an IELTS (Academic) score of minimum 6.0 (with no component less than 5.5), TOEFL score of 550 (79 Internet Based TOEFL), completion of the UVic English Language Centre's ELPI 570 level, or equivalent level through one of our English pathway partners.
Required equipment and software
This course uses a virtual classroom and will present the course material live during the scheduled class times. As this is an online course, you will need your own laptop/PC as well as a decent internet connection. A headset-microphone is needed for visual and audio link-up, or participants may choose to participate in the tutorials by audio link-up only. You will also need access to the Microsoft Office suite (predominantly Excel and Word), however a licence for the Analytics tool you'll be using will be provided for the duration of the course.
Funding
This course is eligible for the StrongerBC future skills grant. To register using this grant please first review your eligibility and then select the StrongerBC future skills grant fee type below. 
Registration details
Select your offering:
Loading section fee(s)...
You're already on the waiting list for this item.
Sorry, this section is full.
Online registration temporarily unavailable
Sorry, this course is not available for registration at this time.
This course is in progress. Please contact us for more details.
Online registration is closed for this course. You may still be able to register by phone. Call 250-472-4747 to find out.
This course is on your wish list. You will be notified when this course becomes available.
Continuing Studies statement on use of educational technology
This course will require the use of Zoom and may use other education technology such as internet-based applications, cloud services, or social media. In order to complete this course you will be required to either consent to the disclosure of your personal information outside of Canada to enable use of these technologies, or work with the Division of Continuing Studies to explore other privacy protective options (such as using an alias or nickname).