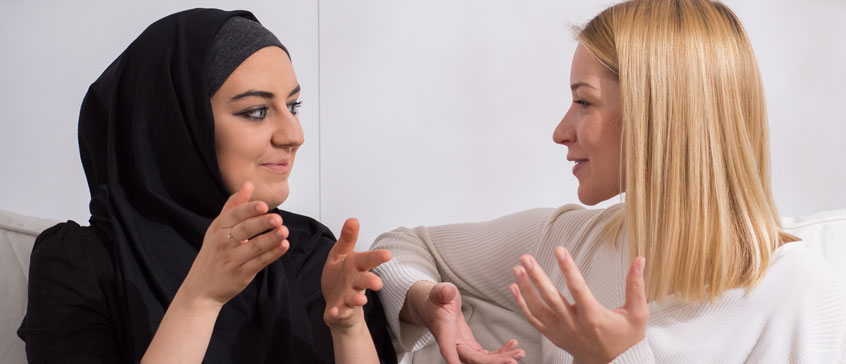 Course description
If you have previously taken an introduction to colloquial (informal) Arabic course or have completed Arabic - Level 1 (formerly Introductory) and would like to express yourself in a wider variety of everyday situations, this course will help you gain confidence in speaking. You will be encouraged to fine-tune your pronunciation, reinforce your basic knowledge and develop your communication skills. Additional material will also be introduced to expand your vocabulary. Knowledge of the Arabic alphabet is required to register for this level.
Note: We recommend that you bring a recording device to class.
Learning objectives
By the end of this course, students will have:
Acquired and broadened the skills taught in Arabic - Level 1 (formerly Introductory) with a more structural approach.
Achieved a deeper knowledge of Arabic grammar, including irregular plurals
Started to communicate using full sentences
Fine-tuned their pronunciation
Broadened their understanding of the various Arabic cultures and dialects
We encourage students to participate in our language courses more than one time in order to truly learn the material taught over 10 lessons. It also gives you additional exposure to varying activities within each topic.
Textbook:
Read and Speak Arabic for Beginners by McGraw-Hill (mandatory)
Dates
World Language courses are offered three times per year:
September (registration opens in June)
January (registration opens in November)
April (registration opens in November)
Registration details
Select your offering:
Loading section fee(s)...
You're already on the waiting list for this item.
Sorry, this section is full.
Online registration temporarily unavailable
Sorry, this course is not available for registration at this time.
This course is in progress. Please contact us for more details.
Online registration is closed for this course. You may still be able to register by phone. Call 250-472-4747 to find out.
This course is on your wish list. You will be notified when this course becomes available.