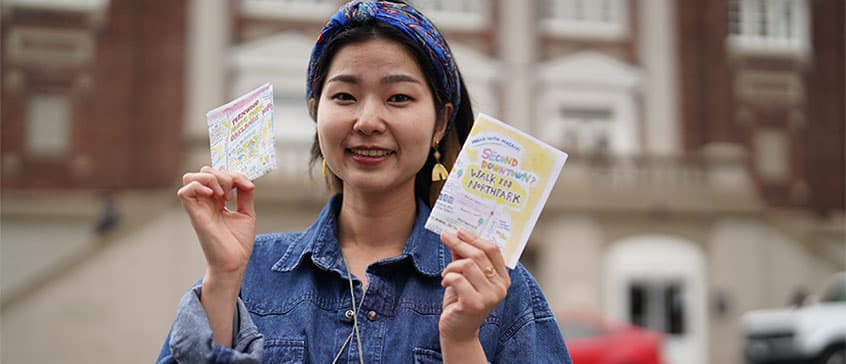 By Ashlee Levy, Marketing Services
The Instagram page for @walk_with_Masami is filled with colourful photos of local businesses and art taken throughout Victoria. "A Japanese hand-drawn map creator displaying treasures that she discovered in her neighbourhood," reads the bio.
The account belongs to Masami Teramachi, a recent graduate of the Business Administration diploma program at Continuing Studies at UVic. Masami moved to Canada from Gifu, Japan after she became interested in marketing.
"In Gifu there are so many beautiful artisans and farmers, but they're struggling with PR and marketing," she explains. "I wanted to be the one who knows marketing and be able to help the local businesses in my hometown."
During her time at Continuing Studies, Masami began exploring her neighbourhood in Victoria and created a hand-drawn map to showcase what she found. She began sharing photos of her walks on her personal Instagram. After a local business owner encouraged her to share the map and photos with a wider audience on social media, she started @walk_with_Masami. The map highlights hidden gems such as neighbourhood art, walking paths and local businesses in the Fernwood, North Park and Oaklands area.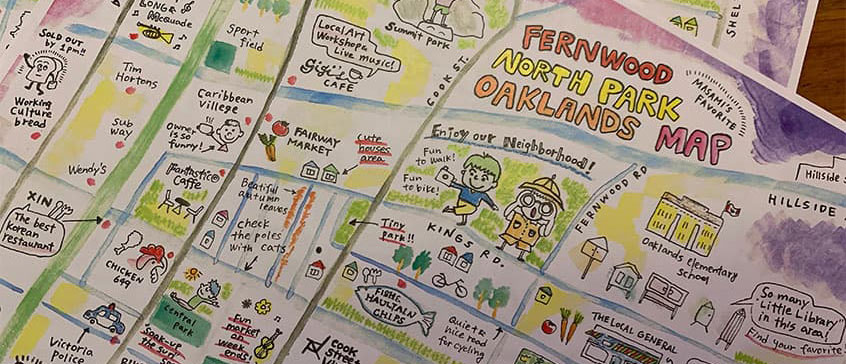 A close-up of Masami's map
"My passion for small businesses in Gifu was kind of floating around in my mind," says Masami. "Instead of [helping] people in Gifu, I thought I can contribute to the communities in Canada, and since I am in Victoria, why don't I do something for them?"
Masami has since connected with many local business owners through the project. Copies of her map were distributed to numerous locations in the area, including Gigi's Café, North Park Bike Shop and Cook Street Vintage.
While the project started as a passion project, Masami says that the classes she took at Continuing Studies have helped her along the way. "It was a fun experiment to try out things that I learned in the classes, especially social media marketing knowledge," she says.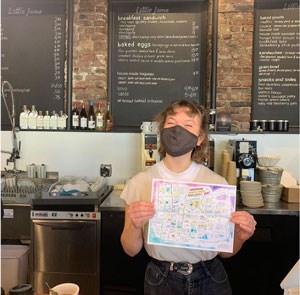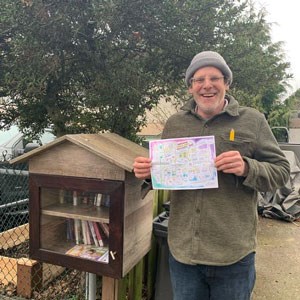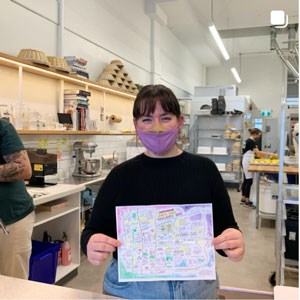 Local businesses with Masami's map
During her time at Continuing Studies, Masami also gained the knowledge she needed to create a business plan for the project, which she used to enter UVic's PlanIt competition this past April. The contest evaluates contestants' business plans based on a variety of criteria. Thanks to the skills she learned in the Business Administration program, Masami won third place for her Walk with Masami business plan.
"This project really opened lots of doors for me because of the business competition," she says. "I started thinking about growing this project as an entrepreneur … I made so many connections, and I'm so grateful that I can give an impact on our community with something that I love to do."
Above all, Masami hopes that the map encourages people to enjoy their own neighbourhoods and make connections with the people around them the way she did. "I want to tell people how they can enjoy where they are," she says. She believes that anywhere can be interesting if you are willing to explore and keep your eye out.
Masami is also considering ways that she can expand the project and use it to make even more connections with the people and world around her. Over the summer, she hosted a walking tour, which allowed her to share her favourite places with others in-person rather than through Instagram. Masami was also recently invited to a map workshop in a different neighbourhood. The residents who attended had the opportunity to share their favourite places and stories, and Masami plans on drawing a new community map for them.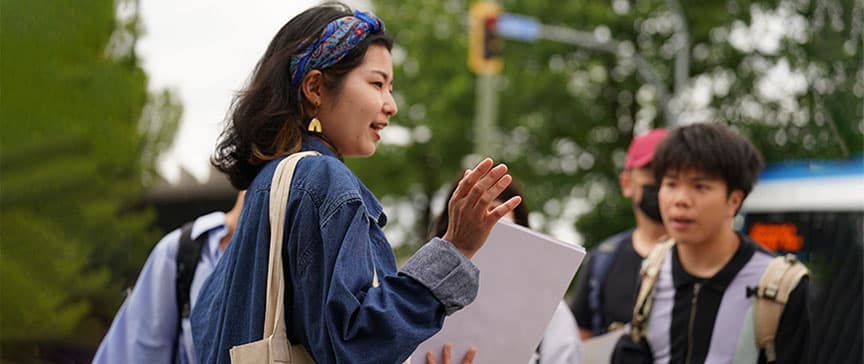 Masami giving a neighbourhood walking tour
The collaborative and social aspects of Walk with Masami have helped her feel like part of the community. She has made friends and established many relationships with local business owners while working on the project.
Masami also enjoyed the opportunity to meet and talk to new people during her time in the Business Administration program. Connecting with other students from around the world was Masami's favourite part of the classes.
"I learned a lot from discussion during the classes because most classmates had different cultural background and experiences. Many were international students of many ages, many generations," Masami says. "It was really interesting to hear other peoples' experiences and life stories."