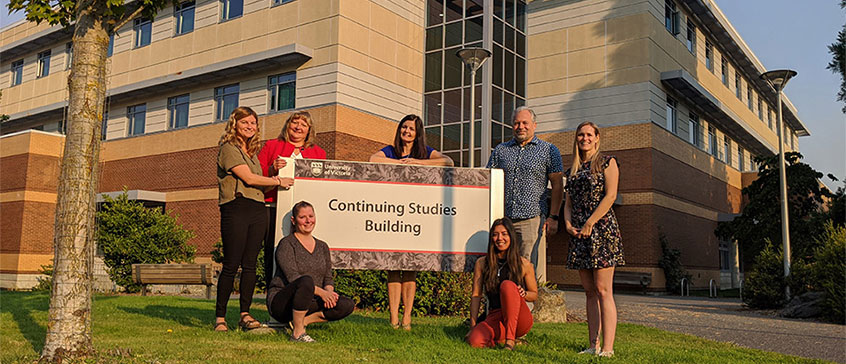 The Continuing Studies Student Services team. Back L-R: Dana Clavette, Christa Kutzner, Sheila Taylor, Stefan Grbavec, and Katie McDonald. Front L-R: Nykita Downie and Angel Antonio. Absent from photo, but not from the team: Alesha Akouri.
Last month, the leadership of our Registration and Student Services Team was highlighted in a feature article on the UVic website. This team has always been amazing, and through the many challenges encountered during the pandemic, they have remained as committed as ever to student-centred service.
"The Student Services team at Continuing Studies had a lot of questions about how to best support their students' needs when the COVID-19 pandemic hit Canada. [...] Eight Student Services staff had confidence and trust in each other, having worked together for a long time—some for over 20 years. So even facing a shifting mass of circumstances—a patchwork of new travel restrictions, evolving rules for campus gatherings to share information, and the overall looming uncertainty of how much COVID-19 would turn the world upside-down—they adapted by focusing on their principal shared priority: supporting the needs of the students. "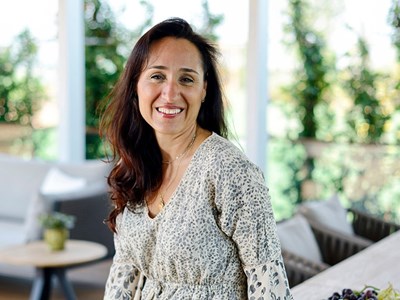 "The Student Services Admissions and Immigration Assistant and Continuing Studies team were tremendously supportive. They did whatever was necessary to protect my rights, and even gave me information about the scholarships I could receive, in case I needed any financial support during this period. Knowing that I could get financial support and also the support of the team was priceless."
—Begüm Eryılmaz, Diploma in Business Administration student
Read full story about Begüm's journey and how Continuing Studies has adapted to changing circumstances: uvic.ca/news/topics/2020+student-support-elc+news