Community Partnership Updates
Quuquuatsa Language Society- Nuu-chah-nulth Communities
Nuu-chah-nulth students came from all corners of their territories to learn together in Port Alberni this summer and fall. CALR, in partnership with the Quuquuatsa Language Society, offered three core courses as well as LING 158: Indigenous Language Mentorship where ten mentor-apprentice language teams have been working towards 100 hours of language learning this fall.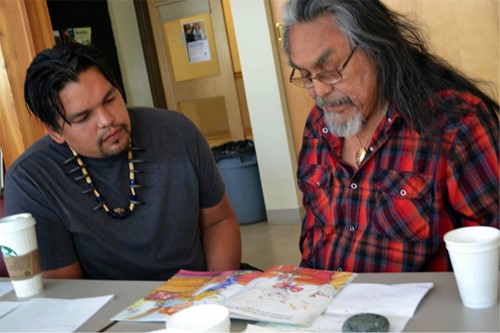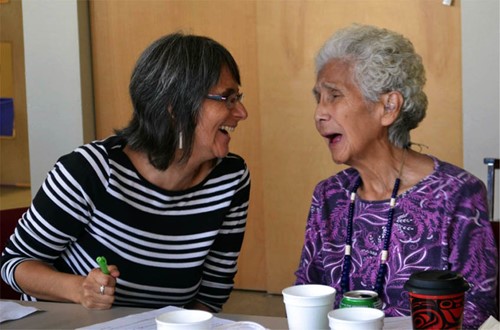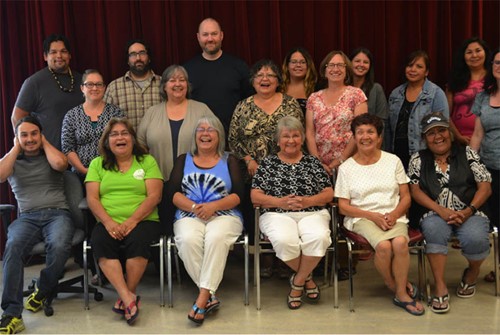 Photos courtesy of Quuquuatsa Language Society.
Nunavut Arctic College- Cambridge Bay
2015 was the start of an exciting partnership with the Nunavut Arctic College. Over the year, we have had three intensive sessions of courses, the last of which is happening right now! Students from Kugluktuk, Gjoa Haven and Cambridge Bay learn together at the Cambridge Bay campus.
The Nov/Dec session welcomed a stellar lineup of instructors with Bonnie Jane Maracle (from Mowhawk Territory in Ontario), Maxine Baptiste (Okanagan Nation, British Columbia), and CALR graduate and local language revitalization activist, Millie Kuliktana (Kugluktuk, Nunavut).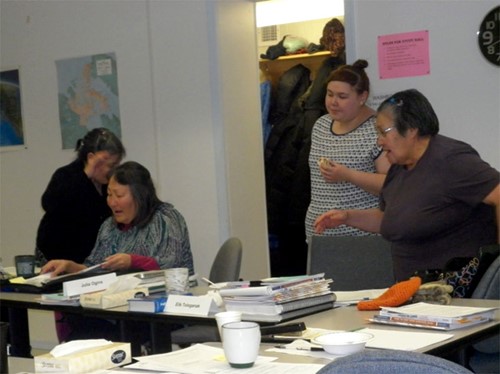 Students singing and dancing a traditional song in LING 187 Methods for Immersion Language Teaching and Learning in Cambridge Bay, Photo courtesy of Shauna Angulalik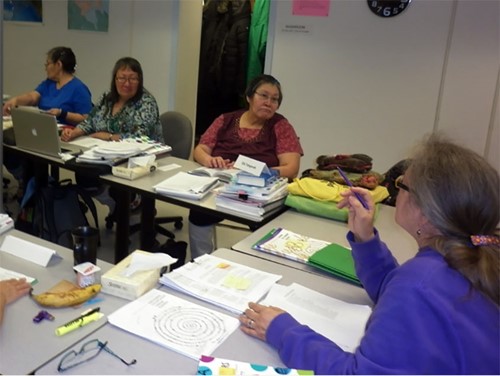 Photo courtesy of Shauna Angulalik
Tlicho Government- Behchoko, NWT
In November, 31 students participated in the LING 180A: Dynamics of Indigenous Language Shift course in Behchokǫ̀, NWT. This course was sponsored by the Tłı̨chǫ Government and taught by CALR graduate Victoria Wells. This was the third CALR course offered in the Behchokǫ̀ community this year. To date a total of 71 students in Behchokǫ̀ have now taken one or more of the CALR courses which have focused on language revitalization and Tłı̨chǫ literacy.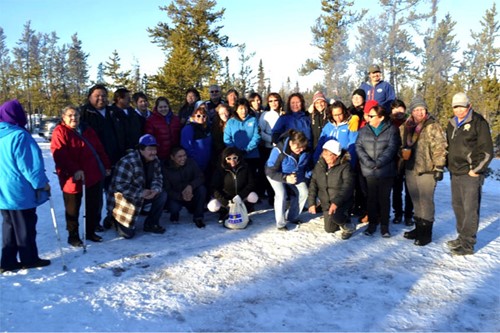 Photo courtesy of Nora Wedzin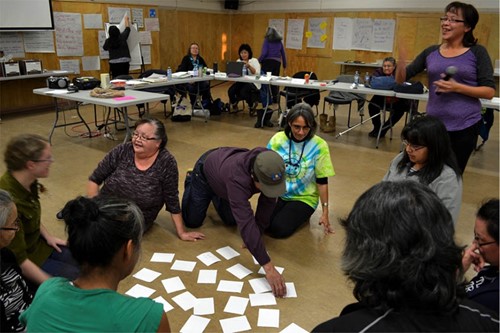 Photo courtesy of Nora Wedzin
THANK YOU!
A HUGE thank you to all of our community partners and local coordinators, especially:
Jennifer Anderson and Shauna Angulalik in Cambridge Bay
Nora Wedzin and Wendy Mantla in Behchokǫ̀
Eva Prevost and Victoria Wells in Port Alberni
We could not make these courses happen without your support and hard work! Thank you also to Leslie Saxon, Academic Advisor for CALR who goes above and beyond to provide assistance for this program.
Interested in bringing CALR to your community?
To date, the CALR program has been offered in part or in whole in community settings in British Columbia, the Yukon, Northwest Territories, Nunavut and Ontario. This collaborative collegial approach builds a relationship of mutual benefit with the contribution of complementary skills and resources towards a common vision.
Some of the goals of the CALR program are to:
serve students who have an interest in working to preserve Indigenous languages and to revitalize the use of these languages to strengthen cultural identity
provide students with the foundational knowledge and skills in linguistics that are needed to undertake language preservation and revitalization work
enhance students' capacity to develop responsive strategies and programs designed to preserve and revitalize indigenous languages
create a foundation for future academic studies- CALR courses have no prerequisites and students can complete them in their home community
Contact calr@uvic.ca for more information on community partnerships.
---
Program News
Thomas M. Hess Scholarship in Indigenous Language Revitalization
One or more scholarships are awarded to academically outstanding undergraduate Indigenous students in either the Faculty of Humanities or the Faculty of Education and who are enrolled in Indigenous Language courses or an Indigenous language program. Selection of the recipient will be made by a committee formed by the Department of Linguistics and will include members from both faculties. Eligibility for this year's scholarship is based on courses completed in the Winter 2014/15 semester as well as enrollment in courses in the current semester.
Scholarship recipients 2015:
Cynthia Nivingalok- Kugluktuk, Nunavut
Linsey Haggard- Port Alberni, British Columbia
Congratulations!
Save the date! Ideafest 2016
The CALR program will be joining the University of Victoria's 2016 IdeaFest. This evening event, held at the Royal BC Museum's Our Living Languages exhibit, will showcase the LING 158 Indigenous Language Mentorship course that Nuu-chah-nulth students have been participating in this fall.
Title:

Quuquuatsa: Speaking Our Own Language

Time:

7:00 - 8:30 pm

Date:

Friday, March 11, 2016

Location:

Royal BC Museum
Interested in summer courses on campus?
Would you like to come to Victoria this summer to work towards your CALR certificate? Do you still need a course or two that you missed in your community? Stay tuned! We are working towards summer courses on campus and will be recruiting students in early 2016!
---
Other Updates
Transcript requests
Looking for a copy of your transcript? You can order your transcript online through the UVic Website on "My Page" or fill out the form found here and send in.
Applying to graduate
Are you just finishing up your last course(s) and ready to graduate? You can look at which courses you have completed anytime by signing in to "My Page" on the UVic website. It's the green box in the top right hand corner.
In order to graduate, you will need to apply by going here.
After you apply, you will be able to indicate if you would like to come to graduate on campus. The Ceremonies office will send you a package with everything you need to know.
---
FOR MORE INFORMATION
Program Coordinator: Janna Wilson
250-721-8504
---