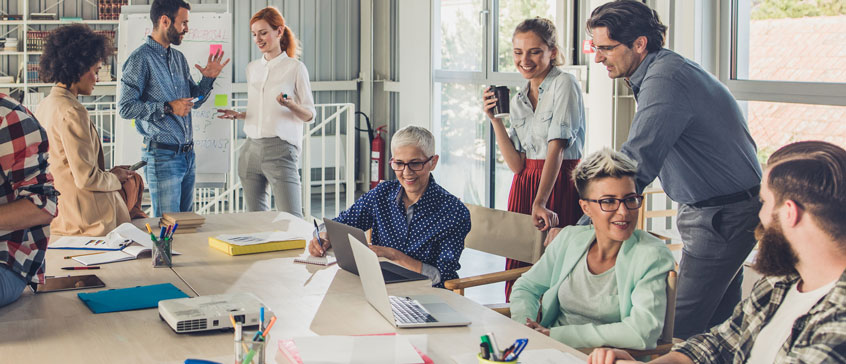 Course description
Available for 1.0 elective credit in the CACE program.
Only offered online.
Many organizations today are using blended learning models to deliver training and facilitate learning. So: what is blended learning and how can you use it to create quality, engaging learning events?
In this hands-on course you will learn how to design synchronous and asynchronous blended training that will engage learners and make learning stick. There will be opportunities to network, collaborate and share a variety of blended learning design and development tools and techniques.
A blended learning approach is integral to the delivery of this course. You will be engaging in asynchronous directed and self-directed learning and virtual classroom learning activities.
Learner assessment in this course is performance-based. There are three course assignments that reflect real-world training situations.
This course focuses on the application of tools and technologies to workplace training.
Learning objectives
Analyze classroom-based training programs for potential conversion to a blended learning solution.
Apply instructional design and adult learning principles to the design of blended learning events.
Apply a framework for integrating classroom instruction and online elements into a blended course.
Identify tools and technologies for blended learning and assess the use of each.
Engage in a team-based blended learning project planning, design, review and development process.
Assess which training requirements are best suited for blended instruction based on the capabilities and constraints of a particular work environment.
Create a blended learning design document that incorporates accepted instructional design, adult learning and learner assessment methodologies.
Develop and present a blended learning training solution.
Registration details
Online registration temporarily unavailable
Sorry, this course is not available for registration at this time.
This course is in progress. Please contact us for more details.
Online registration is closed for this course. You may still be able to register by phone. Call 250-472-4747 to find out.
This course is on your wish list. You will be notified when this course becomes available.
Continuing Studies statement on use of educational technology
This course may require the use of education technology such as internet-based applications, cloud services, or social media. In order to complete this course you will be required to either consent to the disclosure of your personal information outside of Canada to enable use of these technologies, or work with the Division of Continuing Studies and the instructor to use other privacy protective options (such as using an alias or nickname).