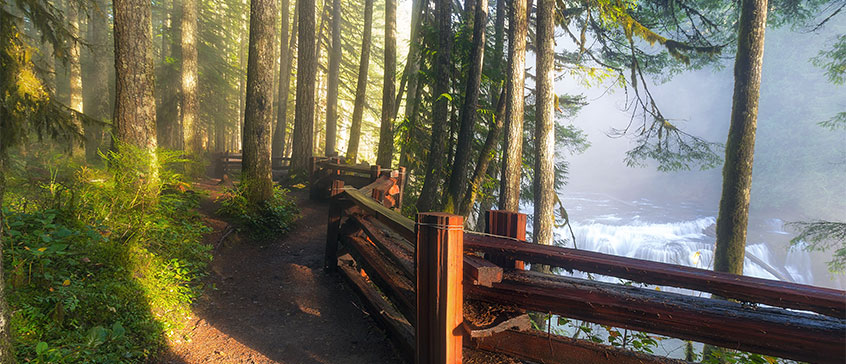 COVID-19 updates    
Fall 2021 and Spring 2022 terms are offering both online and in-person 5-day field courses. We will alert registered students as soon as possible to any changes to the current schedule or format, and ask you to read our emails carefully, as well as information that might be attached. As a reminder, please check your junk mail in case our emails are being routed there by mistake!
Upcoming courses:
Spring 2022 course registration is open, but courses are filling up fast! Please register for your course online if you are a program student or call the Continuing Studies registration desk at 250-472-4747. Please note, due to high demand several field courses are currently full, however, waitlists do move closer to the date of course offering and we urge you to waitlist yourself or call our registration desk for assistance.
Restoration of Natural Systems Program (RNS)
Ecological Restoration Program (ER PSC)
5-year schedules online
The 5-year program schedule has been updated and has its own webpage where you can link straight to course descriptions. Bookmark these for quick access:
Program updates
RNS website
Visit our director's website, featuring student resources, equipment inventory, library resources, information about community partners, student projects, restoration grant opportunities, and more. Please check it out, and send comments and suggestions to Dr. Shackelford.
---
ER 390 presentation
Christophe Boyer shares his ER390 presentation: "Forest Restoration on Haida Gwaii: Implications for Goshawk Acccipiter Gentilis Laingi," conducted in partnership with Taan Forestry.
---
Dave Polster: Honouring success(ion) event
On Oct. 21, we hosted an event to honour the work of Dave Polster, who has been leading restoration projects, methods and education for over 30 years. His work has influenced restoration practice globally, and his generosity to his community, both human and natural, is a continuous inspiration for us all. In the past year, he has faced health trials that have forced him to step back into retirement from the work he loves. The RNS program, UVic and a broad community have come together to honour his legacy and offer support in this time.
To send Dave off with a small reflection of the generosity he's offered to his community, an honorarium is being raised through Go Fund Me.
And, if you are looking for an awesome gift for the ecological-minded person in your life or for yourself, all net proceeds (from the sale of this merchandise based on Dave's practices) go to support him and his family. T-shirt design by Sylvie Hawkes.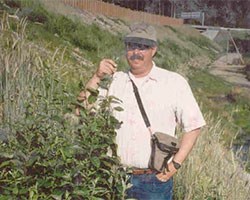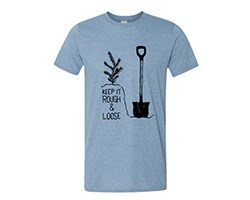 ---
New course August 2022
Special Topics: ER338C Methods in Adaptive Management for Ecological Restoration: This field and lab course introduces monitoring and mapping as decision-making tools and provides training in data management and technologies for visualizing and analyzing outcomes.
---
Reminder: checking your grades
We encourage you to sign in and check your final grades online. Depending on whether you are a credit or non-credit student, there are different places to check your final course grades.
 
If you are an RNS Diploma (credit) student: you can view your grades by signing in to the UVic home page and searching under "My online tools".
 
If you are an RNS Certificate or ER Certificate (non-credit) student: you can view your grades by signing in to Continuing Studies Website. Click on "My Account" near the top right of the page, then click on "Transcripts, Reports, Tax Forms" on the left hand side menu and select Administrative Transcript.
---
Post nominal letters
Wondering what to put behind your name once you graduate? Here are the post nominal letters according to program:
Restoration of Natural Systems Diploma: Dip.RNS
Restoration of Natural Systems Certificate: Cert.RNS
Professional Specialization in Ecological Restoration: PSCert.ER
390 project ideas
If you are interested in finding a 390 project, please consider the following:
University of Victoria – Mystic Vale Gateway Project and Bowker Creek Restoration Design (Victoria)
Two exciting opportunities have arisen at the University of Victoria.
The first, led by UVic alumni in coordination with the District of Oak Bay, will involve designing an educational gateway into Mystic Vale, based at the sump house near Cedar Hill Road. The sump house—covered in artistic graffiti and situated at a beautiful curve in Hobbs Creek, already has planters that are currently overrun with weeds. It presents a perfect location for meaningful design and educational opportunities for Mystic Vale users.
The second, led in partnership between the RNS Program and Bowker Creek initiatives, will focus on the headwaters of Bowker Creek, situated on the university campus. Current conditions and restoration opportunities will be mapped, and long-term plans for connecting with downstream efforts will be launched.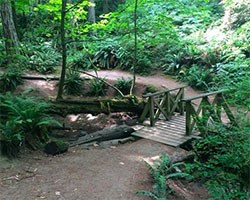 Mount Tolmie Restoration Plan (Victoria)
The District of Saanich and Friends of Mount Tolmie are looking for a student to help create a park-level restoration design. Previous work in the park has involved extensive invasive species control, engagement with local schools, and small-scale species addition trials. The District and Friends would like to create a unified, strategic plan that would be implanted over the next five to 10 years.Photo credit: Galiano Conservatory Association
Courtenay River/K'omoks Estuary (Comox Valley)
Kus-kus-sum (KKS) was once a tidally-influenced forested riparian area and salt marsh alongside the Courtney River and within K'ómoks Estuary. In 1949, it was developed as a sawmill. The restoration of the site involves the recreation of a natural shoreline, saltmarsh channels and riparian forest. Project Watershed has partnered directly with the City of Courtenay and K'ómoks First Nation on this initiative, and have had strong community and individual engagement. They are looking to build further collaboration through student involvement in the restoration phases of the project, which are launching spring 2021.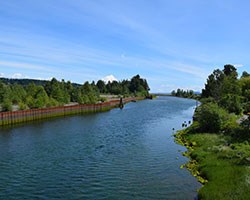 ---
Exploring the causes of decreased berry production in a historic cranberry garden
Native cranberry production has declined in many regions across BC from a large suite of environmental changes, including altered water tables, nutrient enrichment, and changes in plant composition due to the loss of traditional management practices. In the Fraser Valley, the Katzie First Nation has observed changes in berry production in their traditional garden areas, and are seeking a deeper understanding of why and what management actions are best suited moving forward. They are looking for a student, guided by community members and advised by Dr. Richard Hebda, to methodically test the causes and solutions of local berry declines.
Other updates
If you are currently looking for work, here are some employer websites to check out:
---
Looking to volunteer?
The following groups are recruiting volunteers:
Want to connect with the larger UVic Environmental Studies community?
Sign up for the bi-weekly newsletter and find out relevant information on local events, seminars, volunteer opportunities and more