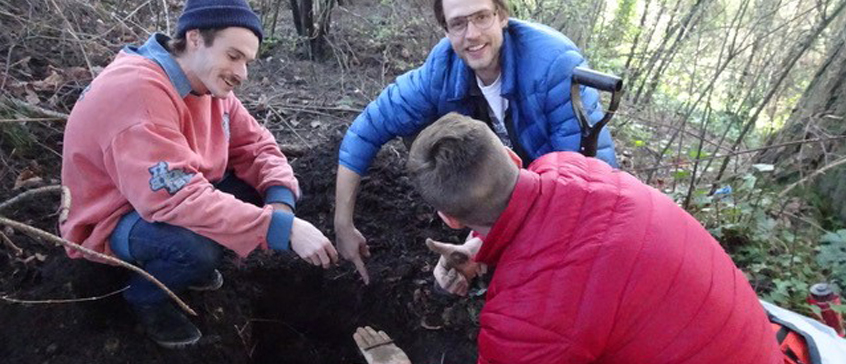 The beauty of spring is upon us, but it's not too early to start planning your fall courses!
---
Upcoming courses
Fall course registration is NOW OPEN and there are still seats open in some summer courses! Fall term courses can fill up fast, so be sure to register early to get your seat. If you are a current program student you can register online. If you are not a current program student, please email me for instructions on how to register (ecorestoration@uvic.ca).
SUMMER COURSES with seats still available:
FALL 2018 TERM
SUMMER COURSES with seats still available:
FALL COURSES with seats still available:
---
Program news
Directed Study Opportunity for fall 2018
This is an opportunity to earn 1.5 units of credits for a directed study project located in the heart of the unceded traditional W̱SÁNEĆ territory, also known as Tod Inlet and Gowlland-Tod Provincial Park, near Victoria, BC. The SṈIDȻEȽ Resiliency Project is part of the broader SeaChange Marine Conservation Society mandate. As part of their restoration effort, the Society has removed large debris and contaminated sediments from the shore of the Tod Inlet, which requires the remediation of diverse pollutants from the sediments. The objectives of the course are to propose to the different stakeholders (First nations, BC Parks, BC Ministry of Environment and Climate Change Strategy, Seachange Society, Butchart Garden) an in situ remediation plan, which includes but is not limited to:
Sample soil testing and analysis
Soil bio-remediation planning using native species
Determination of most suitable native plants, fungi, and microorganism to remediate related pollutants
Community-based approaches for soil remediation and conservation involving many stakeholders
If you are interested in an opportunity to be part of a directed study course focused on soil remediation, please contact the program coordinator at ecorestoration@uvic.ca by July 30th. This course requires you to be available for on-site visits and some in-class time.
REMINDER - Course Welcome Letters
We send you a course welcome letter one month before your course starts. It is very important that you read that letter carefully as it often contains information about preliminary assignments, readings, textbooks, and attachments that will help you prepare for your course. If you don't receive your letter one month prior to a course you've registered for, please contact us right away!
REMINDER - Five-Day Courses
Our 5-day on-campus courses involve work both before the course starts and after the course ends. Normally there is pre-reading and an assignment due when the course starts, and one or more assignments due approximately one month after the course ends. Please take this into account when planning your course schedule, and check with the program office about the course workload if you are registering for a 5-day course less than 2 weeks before the start date.
Checking Your Grades
We encourage you to log on and check your final grades online. Depending on whether you are a credit or non-credit student, there are different places to check your final course grades.
If you are an RNS Diploma (credit) student: you can view your grades by logging in to the UVic home page and searching under "My online tools".
If you are an RNS Certificate or ER Certificate (non-credit) student: you can view your grades by logging in to the Continuing Studies website. Click on "My Account" near the top right of the page, then click on "Transcripts, Reports, Tax Forms" on the left hand side menu and select Administrative Transcript.
Nearing Graduation?
If you have completed most of your program courses, we encourage you to contact the Program Coordinator to prepare for graduation and ensure that all program requirements are complete. Remember that degree students must apply to graduate from both programs at the SAME TIME in order to share courses between programs. The deadline to apply for November 2018 graduation is July 15th. All of your courses need to be completed by August 30th in order to qualify for a November graduation date.
RNS Student Technical Paper Series
The ER390 reports submitted as part of your RNS Diploma represent a significant community resource and we make them available online for reference. Check out some of our recent student projects here: https://continuingstudies.uvic.ca/science-and-ecological-restoration/news/from-neglected-boulevard-to-native-plant-space and here: https://continuingstudies.uvic.ca/science-and-ecological-restoration/news/from-neglected-boulevard-to-native-plant-space
Most of the reports can be found at the urbanecology.ca website here: http://www.urbanecology.ca/rns/. If your report is not there and you would like it posted please send a pdf to Val Schaefer at schaefer@uvic.ca . If your report is online but you would prefer that it is not available to download let him know and he will remove the link.
---
Other updates
Green ShoresTM Training Program
Several times a year, Green Shores Training Program offers a Level 1 free one-day workshop on basic shoreline ecosystem principles and management practices. Pre-registration is required as space is limited to 20 participants: https://continuingstudies.uvic.ca/science-and-ecological-restoration/courses/green-shorestm-training-program-level-1-workshop
BC Society of Landscape Architects Annual Conference May 10-12, Vancouver, BC
More than 350 landscape architects, emerging professionals, academics and experts will come together for a diverse range of educational sessions, exhibitions, panel discussions, tours and networking opportunities. For more information: http://www.bcsla.org/events/2018-bcsla-annual-conference-showcase-agm
---
FOR MORE INFORMATION
Tusa Shea, Program Coordinator 250-721-8463 | ecorestoration@uvic.ca
Gina Anderson, Program Assistant 250-721-8458 | artssci1@uvic.ca
Val Schaefer, Academic Administrator 250-472-4387 | schaefer@uvic.ca
Join us on LinkedIn ! Get job postings, course schedules and restoration news.
---