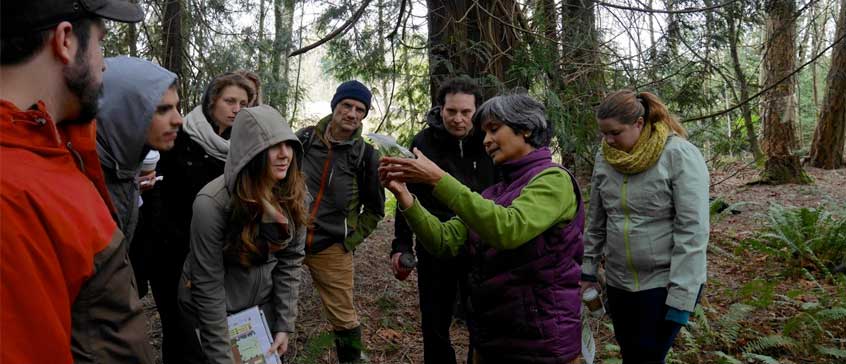 The beauty of spring is upon us, but it's not too early to start planning your fall courses!
Fall course registration is NOW OPEN and there is still one summer course available for registration. Courses can fill up fast, so be sure to register early to get your seat.
To register: call the Continuing Studies registration desk 250-472-4747 or stop by in person (2nd floor, Continuing Studies Building) weekdays 8:30 am to 4:30 pm.
Upcoming courses
---

Program news
Reminder: RNS 20th anniversary in 2016
The RNS program began in 1996 and continues to be at the forefront of ecological restoration education. We are planning an anniversary celebration this fall and will keep you posted about the date, but in the meantime we want to hear from you. What has your experience been like in the program? How has it impacted your life and your community? Please send your comments to Laura Biggs. Thanks in advance for your participation.
Five year course plan – RNS program
We've recently updated our five year course plan (PDF) for the RNS program . Contact us if you need assistance with course planning or have questions about upcoming courses.
RNS diploma students – Scholarship opportunity
If you are currently in the RNS diploma program, you may be eligible for a scholarship opportunity – deadline is May 31, 2016.
Course outlines
If you're having trouble deciding which electives to take, sometimes it helps to check out the course outline. Please contact Laura Biggs to see a course outline from a previous offering (if the new one isn't available yet). This will give you an idea of the types of assignments, readings, activities, etc. to expect so you can register with confidence.
Reminder – Five-day courses
Our five-day, on-campus courses involve work both before the course starts and after the course ends. Normally there is pre-reading and an assignment due when the course starts, and one or more assignments due approximately one month after the course ends. Please take this into account when planning your course schedule, and check with the program office about the course workload if you are registering for a five-day course less than two weeks before the start date.
---

Other updates
Ayum Creek Restoration Project
The Land Conservatory is looking for an RNS student interested in doing some restoration work at Ayum Creek, a CRD park that has some conservation covenants on the property that are managed by the TLC. If you are interested please contact TLC's Conservation Manager Andrew MacKinnon to discuss possibilities. You may be able to use this project as an ER 390 or ER 490, but you would need to discuss this with Val Schaefer to confirm is that is an option.
Update: Checking your grades
As we will no longer be automatically emailing Records of Grade upon course completion, we encourage you to check your final grades online. Depending on whether you are a credit or non-credit student, there are different places to check your final course grades.
If you are an RNS diploma (credit) student: you can view your grades by logging in to the UVic website and searching under "My online tools".
If you are an RNS certificate or ER certificate (non-credit) student: you can view your grades by logging in to the Continuing Studies website. Once logged in, navigate to your account name in the top right of your screen, and click on "Transcripts and statements" in the dropdown menu. Then select "Administrative transcript".
Course Experience Survey
Your feedback is essential to continually improve our courses. Don't forget to complete the Course Experience Survey that is emailed to you as each course draws to a close. We really appreciate it!
Reminder: U-Pass
RNS diploma (credit) students are not automatically enrolled in the U-Pass, but may opt-in. To do this, we would send a Proof of Enrolment letter on your behalf to the UVSS Info Booth. Then you would visit the Info Booth (in the Student Union Building) to pay, and then the ONE Card Office (in University Centre) to validate your card. Please contact us if you're interested.
Unfortunately, non-credit students are not eligible for the U-Pass, but can purchase a monthly bus pass at a discounted rate from our registration desk (2nd floor, Continuing Studies Building). The discounted bus pass is $77 instead of $85, and it's available to students who are full-time (minimum of three courses per term, not including distance courses).
Get job postings, course schedules and restoration news!
Happy spring!
---
For more information:
Laura Biggs, Program Coordinator 250-721-8463 | ecorestoration@uvic.ca
Jennifer Sainz, Program Assistant 250-721-8458 | artssci1@uvic.ca
Val Schaefer, Academic Administrator 250-472-4387 | schaefer@uvic.ca
---