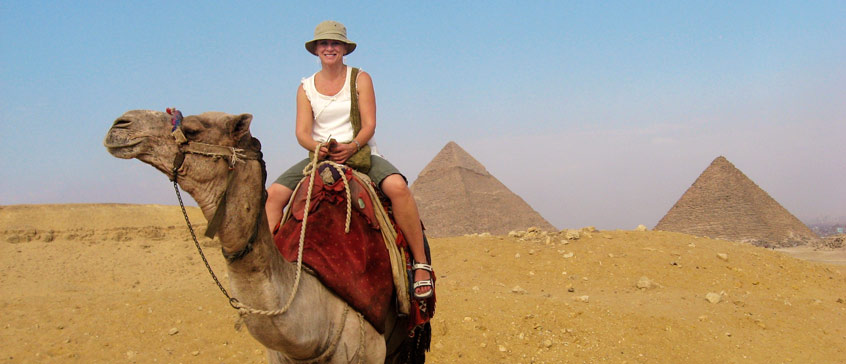 with staff member Janet McDonald
world traveler / tap dancer / HGTV addict
By Ashley Davis, Marketing Services
For an avid traveler, the thought of finding a job that allows you to help others fall in love with travel, sounds pretty sweet, doesn't it? Well that's exactly what Janet gets to do every day at the office. Now, while the idea of traveling is one most people fantasize about, don't forget there's a heck of a lot of hard work involved. From brainstorming the initial destination to the hairy details of coordinating international tours, academic guides, accommodations, transportation and so on—add to that that there are up to five tours offered each year—and you'll start to understand how it's a job that requires not only a passion for travel, but many hours of planning too. For Janet, program coordinator for Continuing Studies' Travel Study Program and the division's art courses, both the journey and the destination are important.
"I love to travel and I love the arts, so the ability to coordinate [both] is very satisfying. [Travel] is almost an addiction for me, and the planning is nearly as enjoyable as the actual trip. If I don't have a vacation planned at all times, I get quite antsy."
Because she is a traveler, naturally it would make sense for Janet to have entertained the idea of living in other countries, right? Well… nope! Janet is one of the lucky ones, already living where she'd most like to be, reminding us that Victoria is simply "the perfect place to live." But as an alternative, she says she'd be willing to give one of two places a chance—now listen closely, it's not every day that someone who has traveled to as many places as Janet has, lists their top two favourites.
"Both the east coast of Newfoundland and Auckland, New Zealand are similar with regard to lifestyle; there seems to be far less focus on material possessions and superficial personal traits. The people I've met in [those places] tend to be very attached to the land, and quick to lend a helping hand, but not quick to judge. The words 'warm' and 'welcoming' come to mind."
Having worked at the division for an impressive 35 years, you would think it would be easy to grow tired of the "same-old, same-old," but Janet maintains that what she enjoys most about her job is the personal contact with instructors and students. "I really enjoy [it]. Our students are amazing and [they] constantly open my eyes to the benefits of lifelong learning," she says.
After a long day at the office—interspersed with coffee breaks, where Janet takes in "lots of laughs with [her] work 'peeps'"—you'd never guess what she likes to do to unwind. Once a week, she joins her friends in a tap dance studio and lets any stresses from the workweek melt away as she taps her toes. Perhaps not the most common hobby, but it's not as surprising as it sounds once you learn that Janet seems to possess a multitude of talents in the arts: from playing the flute and piano ("very much a beginner-level on that instrument!," she clarifies), to studying foreign languages, to her desire to learn even more.
When asked what her next big adventure will be, Janet notes that although she's been incredibly fortunate to have traveled to many amazing places, "my dream is to go on a safari in Africa to see the Big Five." As I contemplated how to secretly convince Janet that she needed an African travel partner—perhaps even the person sitting directly across from her would do—I also started to wonder what she would enjoy more on this next adventure: the journey or the destination?
Want to learn more about Janet's Travel Study Program and arts courses?
continuingstudies.uvic.ca/travel | continuingstudies.uvic.ca/arts