In this talk, Charlotte Schallié will present and discuss the first phase of a larger arts-based participatory research project in which three comics artists (Miriam Libicki, Gilad Seliktar & Barbara Yelin), and four Holocaust child survivors (Emmie Arbel, Nico & Rolf Kamp, David Schaffer) work in close partnership with one another, jointly producing original works of graphic art. Visual storytelling in graphic narratives is especially effective for life stories of child survivors as they recall their memories in a vivid associative context, which intuitively lends itself to visual representation. Thus, Schallié contends that graphic narratives can express the voices of trauma in a way that cannot be fully captured by written testimony alone.
In this presentation, you will also be introduced to narrative art and visual storytelling approaches and techniques. Working with preliminary sketches and original storyboard drawings by Libicki, Seliktar, and Yelin, we will analyze character development and design, story-writing, layout, and image creation techniques. Of particular emphasis will be the question of how sites of traumatic history and memory can be transformed into the visual storytelling medium.
Charlotte Schallié's project was also featured in our Jan-Aug 2022 calendar article: Reconstructing Holocaust histories through visual narratives.
---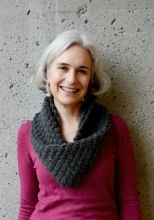 Dr. Charlotte Schallié is a professor of Germanic Studies at UVic. Her research interests include post-1945 German literature and film, memory studies, visual storytelling, Jewish identity in contemporary cultural discourse, teaching and learning about the Holocaust and human rights education.
Learn more about her work in: When Storytelling Intersects with Holocaust and Human Rights Education.
Deans' Lecture Series
Research is continually reshaping the way we live and think. In these online talks you'll hear from distinguished members of the faculties at the University of Victoria and learn about their research interests.