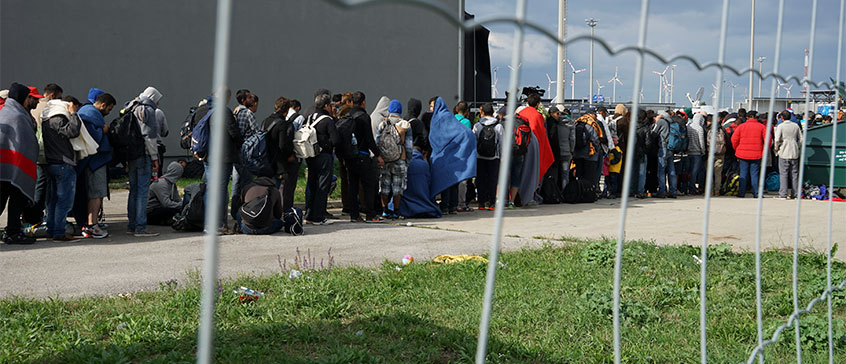 European Borders without Walls: What Can the World Learn From EU Border and Immigration Policies?
COURSE
Course description
The current migration crisis is forcing European policy makers to address past and future challenges to integration; and the decisions they are making will have a long standing impact on the EU. This course examines how the responses to the crisis are shaping Europe's borders, migration and related security policies in exemplary ways from a comparative perspective and context.
A Jean Monnet Network grant comprised of the University of Strasbourg (France), Bilkent University (Turkey), Hokkaido and Kyushu Universities (Japan), and the University of Victoria (Canada) provides funding for the course. This network conducts innovative and forward looking research comparing the EU's evolving border, migration and security policies to policies in Canada, France, Japan and Turkey. The activities in the course are aimed at engaging the greater public, undergraduate and graduate students, young researchers and professors, along with the policy makers in each community.
Today, despite the growing body of work across institutions on border and migration studies, there are very few attempts to coordinate these efforts, particularly when it comes to innovation in data sharing, management, and dissemination. With this in mind, we have developed this Open Online course to explore how the EU's border, migration and related security policies are evolving during the migration crisis. The material draws on research conducted by the Network.
The themes we will cover include:
History of borders – focus on the EU
Cultures and borders – in North America and Europe
Migrations and trading across borders
Governance of borders in the Mediterranean and in North America
Sustainability – water issues in North America and in Europe
Security – EU/North American differences and similarities
The Case of EU Turkish relations
The Case of EU Moroccan relations
Borders and Migration in Canada
You can follow the course material at your own pace and you will have access to a wide range of debates on the history, culture, economics, sustainability, security and governance of borders. Each unit uses a variety of learning activities including video-clips, short readings and online lectures. You can also choose to complete assignments and quizzes and participate in group discussions.
This course is open on a non-credit basis to professionals in the public and private sector, academics, border and migration scholars, and community members with a strong interest in borders.
The course is also open to UVic students as an undergraduate credit course (400 level), assessed according to university standards and subject to tuition fees. UVic students please contact eusprog@uvic.ca
Registration is available on an ongoing basis until November 27, 2017.
PLEASE NOTE:
During the registration process you will be required to provide your date of birth. This is necessary to authenticate your online profile in order to give you access to the course site.
Registered participants will receive course access instructions by email.
Photo credit: Mystslav Chernov
Registration details
Online registration temporarily unavailable
Sorry, this course is not available for registration at this time.
This course is in progress. Please contact us for more details.
Online registration is closed for this course. You may still be able to register by phone. Call 250-472-4747 to find out.
This course is on your wish list. You will be notified when this course becomes available.