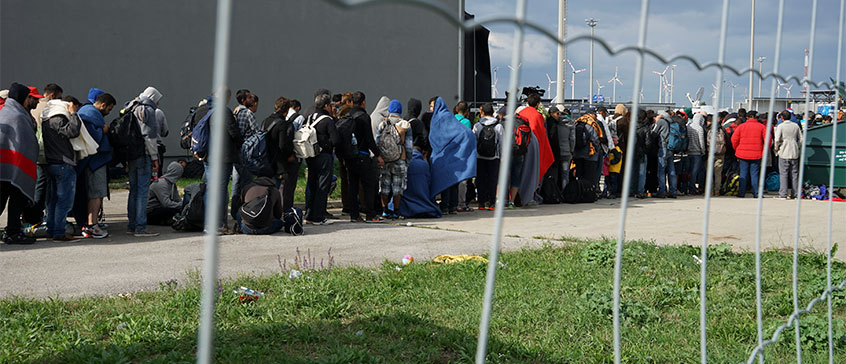 European Borders without Walls: What Can the World Learn From EU Border and Immigration Policies?
COURSE
Course description
The recent and ongoing migration situation in and around Europe is forcing European policy makers to address past and future challenges to integration. The decisions they are making will have a long-standing impact on the EU. This course examines how the responses to the crisis are shaping Europe's borders, migration and related security policies in exemplary ways from a comparative perspective and context.
The material for this course develops from an EU funded research programme led by UVic with a network of partners in France, Turkey, Japan and Canada. This network conducts innovative and forward-looking research comparing the EU's evolving border, migration and security policies to policies in Canada, France, Japan and Turkey. The activities in the course are aimed at engaging the greater public, undergraduate and graduate students, young researchers and professors, along with the policy makers in each community.
The course material draws on research conducted by the network and features 12 units:
General introduction: Defining borders
Is our world a borderless world: Borders in History
Cultures and borders
Political communities and borders
Market and functional linkages and borders
Governments and borders
Security policies and borders
Environmental policies and borders
Immigration and borders
Border disputes
Theorizing borders: Borders as a cultural, social, or political object
Theorizing borders: Borders as a functional object
Each unit uses a video presentation by the professor and includes diverse learning activities including video-clips, short readings, quizzes, and discussion forums. Although it is highly recommended you keep pace with the course, you can follow the course material at your own pace. Participating in a timely manner will provide access to a wide range of debates on the history, culture, economics, sustainability, security and governance of borders.
This course is open on a non-credit basis to professionals in the public and private sector, academics, border and migration scholars, and community members with a strong interest in issues of borders and migration.
The course is also open to UVic students as an undergraduate credit course (EUS490 CRN 13832), assessed according to university standards and subject to tuition fees. UVic students please contact eusprog@uvic.ca
Registration is available on an ongoing basis until September 21, 2018
PLEASE NOTE:
During the registration process you will be required to provide your date of birth. This is necessary to authenticate your online profile in order to give you access to the course site.
Registered participants will receive course access instructions by email.
Photo credit: Mystslav Chernov
Registration details
Online registration temporarily unavailable
Sorry, this course is not available for registration at this time.
This course is in progress. Please contact us for more details.
Online registration is closed for this course. You may still be able to register by phone. Call 250-472-4747 to find out.
This course is on your wish list. You will be notified when this course becomes available.