Mindfulness training, while growing in public institutions such as schools and workplaces, has been largely limited to clinical settings. Moreover, for many mindfulness groups, sustainability of practice post-course remains a challenge. This experiential workshop will first provide participants with the experience of mindfulness in nature and forest therapy. Following this, the integration of mindfulness with nature will be explored as an entry point for teaching mindfulness to adults. Teaching mindfulness in nature affords the potential of making mindfulness accessible to a wider audience and increasing the sustainability of practice in daily life. The rewards and challenges of teaching mindfulness in nature, in contrast to teaching in clinical and community settings, will be discussed. Participants will also leave with a few simple practices that can be implemented in any setting, to assist others in stress reduction and healing.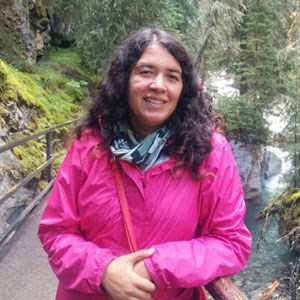 Instructor: Ameeta Dudani
Ameeta Dudani is a clinical psychologist and a mindfulness and yoga teacher (RYT-200) from Toronto, who recently relocated to Victoria. Ameeta provides mindfulness-based psychotherapy, trains educators and health/mental health professionals in mindfulness, and facilitates mindfulness-based therapeutic groups for children, youth and adults. Ameeta is also a teacher with the Ontario-based nonprofit Mindfulness Everyday.