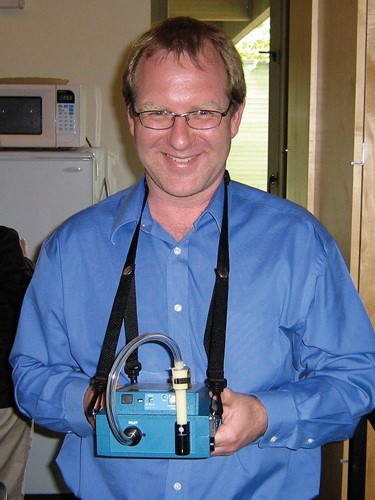 Many years ago, as a lab instructor in Biochemistry and Microbiology, I had occasional interaction with the staff in UVic's department of Occupational Health, Safety and Environment (OHSE), and always thought, "that seems like a fun and interesting job." I looked into the EOH certificate program and signed up, hoping to find a job opportunity in the field sometime in the future.
Back then, the certificate program was conducted in-class and I was pleased to meet many other local people who shared my interests in occupational health and safety. The courses were great and the instructors very knowledgeable.
As I began my fourth course (now via distance), I found out about a term position in OHSE. I was very keen and that showed in my job interview. I took over the role as UVic's Biosafety Officer for a six-month term. A continuing position was soon available and I've now been in the department for 11 years.
The work is very varied: each of the OHSE consultants has generalist duties including facilitating WorkSafeBC incident investigations, local safety committee support and assisting with departmental safety inquiries. As well, each consultant coordinates specialist programs for the university. My specialized portfolios have included biosafety, hazardous waste management, chemical safety and emergency planning. My current role involves fire safety, hazardous materials mapping and local safety committee program coordination.
I enjoy the variety of activities and the great UVic people I work with in this field. I also have had the pleasure of sitting on the steering committee for the EOH certificate program and was happy to bring a student's perspective to the table.