Paula Ceroni, Homestay Manager, first met Will and Anya during a scheduled visit to their home, after they had applied to become hosts in our Homestay Program. Paula was immediately drawn to them—they were friendly, open, engaging, and had a story to share: Will is a former ELC student who participated in our Homestay program! They let Paula know that Will had had a great experience and was still close with his host parents. As new hosts, Will and Anya want to give students a fun and happy experience in Canada.
This was such a great story, we just had to share it!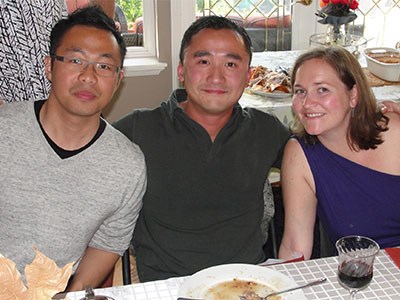 1) Will, when you were an international student, what drew you to Homestay initially?
It was a part of the ELPI program when I first connected with the school before I moved to Victoria from China. I didn't have anywhere to stay, so naturally Homestay was the only way. Learning the Canadian culture and values was what kept me with my former homestay family for three years.
2) Looking back, what were some of the big differences you encountered while living in Canada? How did Homestay help you adjust?
Sense of belonging— It's difficult for international students to make friends in a foreign land. Many of us struggled to make social connections and build a sense of belonging in the community when we first arrived. Heather and Dave, my former host parents, were extremely kind to me. They always invited me to family dinners on weekends, Easter, Thanksgiving, and even Christmas. They even got me presents! Having a warm-hearted family away from your own family helps international students to emerge and adapt.
More than English – When I came to Canada 12 years ago, I didn't just want to learn the language, I wanted to learn Canadian culture, traditions, history, people and the beautiful landscape. My homestay provided me with plenty of opportunities to achieve my purpose. We watched movies together, we went to museums together, we had debates and discussions, and they introduced me to their friends and extended families. I showed them everything I knew about China, so they could understand where I came from. These experiences would be impossible had I lived alone. It's essential to emphasize that international students come here to learn more than just English. Homestay is the perfect bridge to establish knowledge sharing between two countries.
How to be independent – Many younger international students leave their families and come to Canada so that they can make a first attempt at independence. I was no different. I left home when I was 18 and was incredibly fortunate to have the host family I did. Having an understanding host family helps international students learn to be independent in a safe environment. When I told Heather and Dave that I wanted to learn how to be independent, they were very supportive. They allowed me to cook for the family. We had "William Wednesday," where I would cook for the family after school. They taught me how to clean my own bathroom. Heather drew me a simple cost benefit analysis chart when I was considering buying a car and moving into an apartment. Dave, my host dad, taught me how to use different tools. I even helped them to paint their garage door! After three years' stay with the Coeys, I felt comfortable to finally move out and be independent. With helpful guidance, host families can provide more than just moral support on students' independence.
3) What were some of the favourite activities you did with your hosts?
Road trips, Sunday picnics, snow fights, holiday family dinners, and Christmas were my absolute favourite times with my former homestay family. On more of an academic side, I also enjoyed some of the discussions we had on controversial topics such as same sex marriage, women's rights, taxation, etc.
4) How would you describe the type of relationship you had/have with your host family?
We were very close, and we still keep in touch. They were at our wedding when Anya and I got married in 2008. They still treat me as a part of their family. I was very lucky to have them as my host parents.
Both Heather and Dave are influential role models in my life. Heather taught me the important lessons on being independent. She pushed me to get a part-time job while going to school. After I started taking regular classes at UVic, at one point, I was working at three part time jobs and taking four classes per semester. She taught me the essence of hard work, honesty, and respect. Heather showed me ways to be more open-minded and how to see things from other points of view. This skill was important to me because it helped me to ease off my stubbornness and acknowledge the fact that there are two sides on one coin. Later when I participated in in-class discussions or chats in social environments, I was able to understand Canadians' viewpoints on certain issues better.
Dave taught me skills I would have never gained in China with my circumstances. He taught me how to play guitar. The first song he taught me was "Wonderful Tonight" by Eric Clapton. I later played this song for Anya at our wedding. Dave also ignited the athlete in me and introduced me to weight training. When I left China in 2000, strength training in the gym was not popular and I had no concept of weight training. Dave showed me how to lift weights properly. Three years later, I became the first international student as a personal trainer working at the Ian Stewart Complex. Besides guitar and personal training, Dave also helped me with personal financing. Rich Dad, Poor Dad by Robert Kiyosaki was the first book Dave gave me, and it changed my entire worldview on personal financing. To this day, he's still my financial advisor and sends me finance-related books to keep me educated.
Zac, my little host brother, plays an important role in my life too. When I first joined the Coeys' household, Zac was three years old. He was still learning to say certain words. One day I had an epiphany that I should follow Zac and learn English like a child. That's exactly what I did. I would learn how to pronounce words like Zac did. I would read bed time stories to Zac so that my pronunciation and enunciation were clear and proper enough for a three-year-old to understand. Zac is now 15 years old, and we play sports and Wii games together.
5) Being a former Homestay student, what drew you to host international students yourself?
Giving back and supporting the Homestay program are the main reasons Anya and I became a host family. I value the good things the Homestay program provides, therefore, I want to support them. Without my former host parents, I would have turned out to be completely different. I'm very grateful for their influence in my life. The Canadian chapter of my life would not have been the same without them.
I want to create the same supportive environment for our homestay students. I want to follow the models that my former host family set for me to support our homestay students' learning and development. Someone told me back in 2000 that I would never speak English fluently like a Canadian. I tell my Homestay students that they can accomplish anything if they work hard and put their minds to it.
6) What tips would you offer to other host families from the perspective of a former Homestay student? From the perspective of a Homestay host?
Encourage learning – As a former international student, I recognize that learning English doesn't just happen in classrooms. It's true that the majority of their learning comes from the classroom environment. However, if one truly desires to become better in spoken and written English, s/he has to socialize using English. Heather had a brilliant idea to help me overcome the barrier of limited vocabulary. We played "the word of the day" at dinner table every night when we ate together. It really helped me to broaden my vocabulary. I carry the same tradition with my homestay students. We not only teach them new words at the dinner table, but also encourage them to use these words over and over again by forming sentences or making stories. Repetition solidifies learning and forms understanding. We also encourage them to join us in parties and socialize with our friends in English.
They are not your kids – It never happened to me before, but I've seen many host families make this mistake. Once foreign students step into your household, it's easy to have control over their lifestyle. "Be home by 10." "Call if you are not home for dinner." "Don't forget your lunch in the fridge." What many host families fail to realize is that some of these students didn't just come here to learn English. They might have come here to learn how to be independent, experience some freedom, or start a new life. Having constraints in their Canadian experience will impede their willingness to be a part of your family.
7) Could you please share a memorable/funny/special experience that stands out to you from your Homestay experience?
Will and I like to eat many styles of food. One night, I cooked Chinese. Our two homestay students at the time (one from Saudi Arabia and the other from Quebec) had never used chopsticks before, so before dinner, we gave them a lesson and had them try to pick up elastic bands off the counter. It was just one of those things that was unplanned but so silly and fun. Having homestay students who come from a totally different background (and generation) than you can be really fun in that it helps you see your ordinary routine life in a different way— through their eyes.
8) Anya, how do you think Will's relationship with his previous hosts impacted his experience in Canada?
I think Will's original plan was to come to Canada, learn English, get his degree, and then go back to China. Will's host family really made him feel welcome here. They introduced him to new friends, one of whom was also a friend of mine. It's crazy, but without his host family, we might not have met and he probably would have gone back to China!
9) What are some of the special memories you have with Will's homestay parents?
We were so happy that we got to have Heather, Dave and Zac with us at our wedding. At the reception, Dave surprised us by singing and playing a song on his guitar. I think of Will's host family as my Canadian in-laws.
A heartfelt thank you to Anya and Will for sharing their story with us!