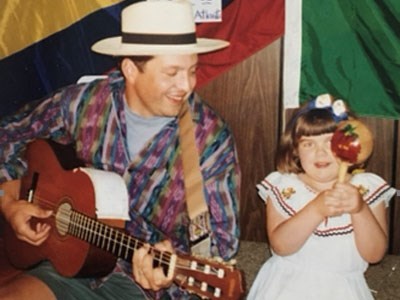 Then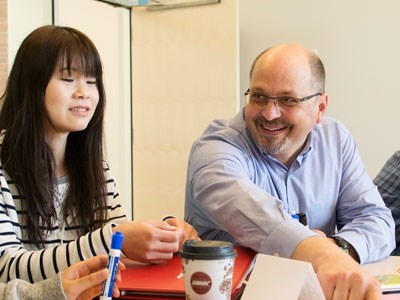 Now
Years as a CA: 1992-1994
Current role: ELC Teacher
I had so much fun being a Cultural Assistant from 1992 to 94 that I have stayed on as an ESL teacher at Continuing Studies at UVic ever since. I did my language teaching training (in French actually) at Laval University in the mid 80s, then completed a Masters in Drama in Education at UVic, and I often incorporate the Arts into my L2 teaching. My thesis explored the effects of gesture and body language in L2 drama work.
I love the fact that I feel, in this line of work, as you are always on a trip somewhere, afforded the unique opportunity of meeting and interacting with the whole world, all in one beautiful building. CAs rule. In days when talks of walls exist, the CA teams build doors and windows.
I am a local actor and perform annually with many companies, most recently with Bema Productions in Leipzig, a story of the Holocaust and of families, and then Theatre Inconnu next year in Black Rider, a musical by Tom Waits, in Dec 2020. I am also employed by VIHA to engage residents in singsongs and works each summer at SMUS as director or a Fringe musical high school course.
I credits my current ability to multi-task as having its roots in my CA days……so many CAs I've worked with are still in this department, proof of the fact that old CAs never die, they just put on a fresh new red shirt.