As a student in this innovative program you´ll prepare for a business career by:
Perfecting your English skills
Earning a Diploma in Business Administration (DBA)
This unique combination of English and Business programs is the perfect option for recent high school graduates who want to learn practical English and earn an internationally-recognized business credential in a short period of time.
Advantages of this program
Language skills and confidence developed during your English programs provide a foundation for your business studies while helping you adjust to life at UVic
Business courses such as Organizational Behaviour, Financial Accounting and Strategic Leadership teach you how to make business decisions using the case study method
An intensive DBA schedule that alternates intensive courses with study breaks during which many students work part-time.
Dedicated instructors with a wealth of real-world experience
Eligibility to apply for a post-graduate work permit in Canada upon completion of the DBA
Earning a business credential from the University of Victoria, which is ranked in the top 1% of universities worldwide
Accommodation options
During your first program, Intensive English (ELPI), you will settle into Canadian life by staying with a homestay family. During your summer program you will have a new accommodation option – living in the UVic Dormitories alongside your international friends, and in September you can return to homestay accommodation with a local family.
Program format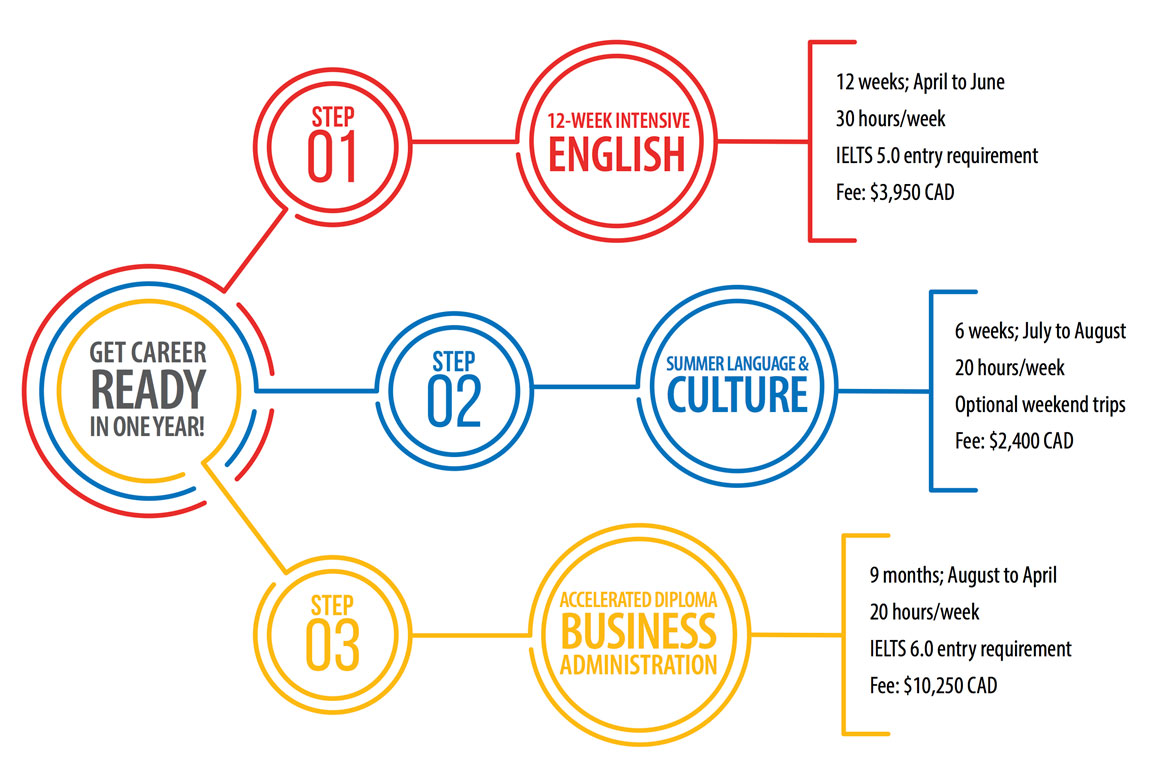 Step 01: Advanced English
Each day in class, you will enjoy the support of two teachers who work together to help develop your English skills through challenging projects, activities and discussions. As an English student you'll learn and explore with new friends, enjoying new experiences and simple beauties on Canada's West Coast.
Step 02: Summer Language & Culture
In this program, you'll study English each morning, and the rest of the day will be yours to enjoy and explore with our Cultural Assistants (CA) as your guides! Our CA team organizes an amazing variety of activities outside of classes, including workshops, games, sports and culture nights.
Step 03: Accelerated Diploma in Business Administration
Earn a valuable university business diploma in just 9 months with our Diploma in Business Administration - Accelerated program. Get the skills and credentials you need to succeed in a career in today's global business marketplace.
About Victoria BC, Canada
Immerse yourself in an international business mindset in one of Canada's most beautiful cities, Victoria, BC.
Victoria is an amazing place to learn English and explore Canada. It's a small city with a big heart! You'll find the same shopping, restaurants and festivals that you might find in a large city, but it's also safe, friendly and beautiful.
In addition to this, Victoria has the mildest winter in Canada. Throughout the year, you'll find Victorians enjoying outdoor activities such as hiking, kayaking or camping. There are also lots of fun indoor activities to enjoy.
Victoria is located on the southern tip of Vancouver Island, just a short trip to Vancouver and Seattle by ferry or plane.