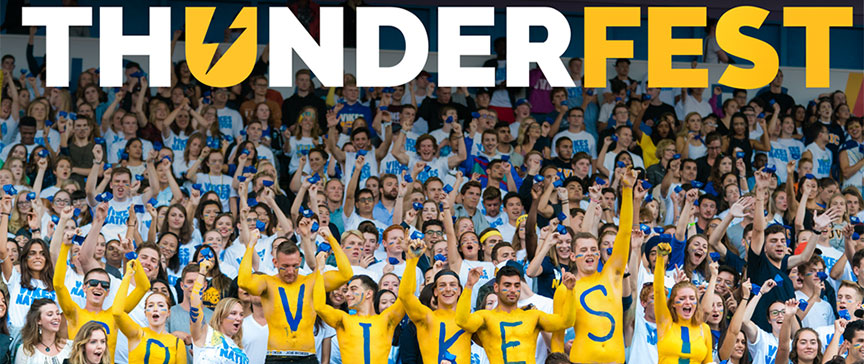 Here are highlights of events that our students can attend across campus in the month of September. To see all events on campus this month, go to the UVic events calendar.

September 4, 11, 18 & 25
Noon Meditation - Staff, Faculty & Students
We start with a basic meditation instruction at 12:15pm followed by a 20 minute breath meditation at 12:25pm. We are done by 12:50pm.
Led by Henri Lock, United Chaplain. Free and open to all, staff, faculty and students. Drop-in, come when you can.

September 5, 12, 19 & 26
UVic Elocutionists – Toastmasters Club
Alumni, faculty and staff are welcome to join this campus Toastmasters Club. A great opportunity to enhance professional public speaking skills.

September 7
Join in the fun of UVic's amazing "back to school" festival! Meet our Vikes teams, make some new friends, learn about Vikes recreation programming, listen to live music, officially join Vikes Nation...and explore over 50 great booths with give-aways and lots of giant inflatables/games to play.

September 10, 17 & 24
Drop-in, and enjoy fresh air, conversation, and walking meditation. Meet in the lobby of the Interfaith Chapel, rain or shine. Through self-exploration, begin to learn how to connect successfully with others on a higher level through creating a culture of character. Discussion of stellar character traits, epic relationships, & personal development in the service of humanity.

September 11
​It's the Vikes Nation's annual glow in the dark dodgeball event! UVic students, staff and faculty get in for FREE so keep your eyes out on our FB event to sign your waiver ahead of time and skip the line on event day!

September 18 & 25
Missing your pet? Stressed about school? Come to the Interfaith Chapel to love-up some animals. Enjoy free tea, coffee, and cookies while connecting with cuddly creatures. This is a drop-in program and anyone is welcome to attend.

September 27
Margaret Atwood in Conversation
During this evening event, Canadian writer Margaret Atwood will discuss her new novel, The Testaments, with CBC's Shelagh Rogers (also UVic's Vice-Chancellor). In this sequel to The Handmaid's Tale, set 15 years after the events of the original novel, The Testaments follows three new handmaids as they navigate life in a dystopia that looks ever more familiar.
---