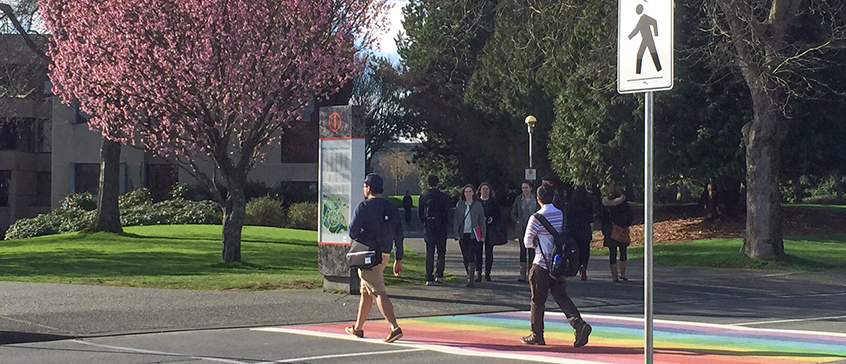 Here are highlights of events that our students can attend across campus in the month of March. To see all events on campus this month, go to the UVic events calendar.
March 2, 5, 9, 12, 16, 19, 23, 26, and 30
A free guided gentle 50 minute yoga practice. This is a drop-in program, and everyone is welcome. Mondays: Hoyu (Tommi) combines her skills as a Teacher of Therapeutic Yoga & her meditation practice with Zenwest Buddhist Society. Thursdays: Kevin Murphy will lead us in simple, relaxing, gentle yoga. Please layer with warm, comfortable clothing and bring a yoga mat if you have one.
March 3, 10, 17, 24, and 31
Drop-in, and enjoy fresh air, conversation, and walking meditation. Meet in the lobby of the Interfaith Chapel, rain or shine. Through self-exploration, begin to learn how to connect successfully with others on a higher level through creating a culture of character. Discussion of stellar character traits, epic relationships, & personal development in the service of humanity.
March 10 - 21
Go see a live play at UVic's Phoenix Theatre! The Children's Hour is a powerful story about the power of lies, and the culture of fear that allows them to thrive. When a terrible rumor spreads at a fancy all-girls school, the school's two headmistresses must risk destroying their careers and relationships to fight for the truth.
March 11, 18, and 25
Missing your pet? Stressed about school? Come to the Interfaith Chapel to love-up some animals! Enjoy free tea, coffee, and cookies while connecting with cuddly creatures.

March 21 - 21
Watch UVic's soccer teams compete with rival universities including UBC, Fraser Valley, and Trinity Western!
March 25
Vancouver Island University's Bird Monitoring Program
Since 2013, Vancouver Island University has run a bird-monitoring and banding project in Nanaimo. Come hear about what they've learned about tracking the movements of Canadian Geese and other species in Room 159 of UVic's Fraser Building at 7:30pm.
March 28
UVic Chamber Singers: To Live is to Sing
Come to find out why singing is good for you in a concert featuring the UVic Chamber Singers and ensembles made up from the choir members!
---