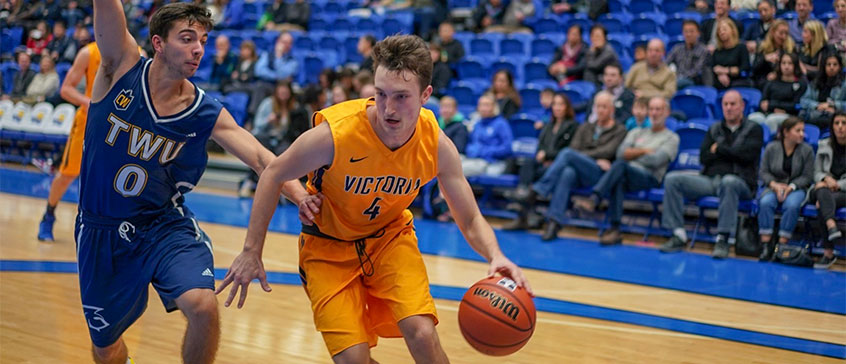 Here are highlights of events that our students can attend across campus in the month of January. To see all events on campus this month, go to the UVic events calendar.
January 3 & 4
UVic Basketball: vs. UBC Okanagan
On Friday and Saturday, the UVic Vikes basketball teams take on the University of British Columbia Okanagan Heat in Canada West regular season play!
January 6, 9, 13, 16, 20, 23, 27 & 30
A free guided gentle 50 minute yoga practice. This is a drop-in program, and everyone is welcome. Mondays: Hoyu (Tommi) combines her skills as a Teacher of Therapeutic Yoga & her meditation practice with Zenwest Buddhist Society. Thursdays: Kevin Murphy will lead us in simple, relaxing, gentle yoga. Please layer with warm, comfortable clothing and bring a yoga mat if you have one.
January 7, 14, 21 & 28
Drop-in, and enjoy fresh air, conversation, and walking meditation. Meet in the lobby of the Interfaith Chapel, rain or shine. Through self-exploration, begin to learn how to connect successfully with others on a higher level through creating a culture of character. Discussion of stellar character traits, epic relationships, & personal development in the service of humanity.
January 13
Puppy Therapy in the Student Union Building
Missing your pet? Stressed about school? Join an afternoon of stress-busting puppy therapy with the lovely folks from BC & Alberta Guide Dogs. Stop by the SUB Upper Lounge between 11:30am and 1:30pm to participate!
January 15
Mental Health and Resilient Communities: An Evening with Jordin Tootoo
Come listen to the famous Jordin Tootoo, who was the first Inuk to ever play in the National Hockey League! In this talk, Jordin will share his personal story about the impact that mental health and addiction can have on family. This hopeful message of resilience and understanding begins at 4:45pm.
January 17
Head on over to the McPherson library from 10:30 am – 12:30 pm to reserve your spot for a free, 15 minute massage, brought to you by the Student Health Ambassadors and Peer Educators (SHAPE) and the West Coast School of Massage Therapy. Massages are offered on a first-come first-served basis!
January 24 & 25
UVic Basketball: vs. Thompson River University
On Friday and Saturday, the Vikes basketball teams take on the Thompson Rivers University Wolfpack in Canada West regular season play. During Saturday's games, wear pink and support the Canadian Cancer Society!
January 31
UVic Orchestra: Keys to the Wigs
Attend at show featuring the University of Victoria orchestra! All kinds of instruments such as violins, cellos, and flutes will be playing together to make beautiful music for you to enjoy - the performance begins at 8:00pm!
---