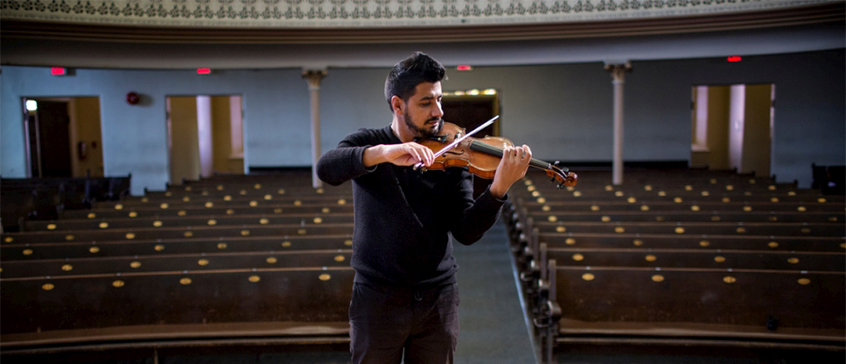 Here are highlights of events that our students can attend across campus in the month of February. To see all events on campus this month, go to the UVic events calendar.
Friday, February 1
Alumni Week is a week-long celebration of UVic Alumni, their individual and collective successes as well as their many connections to UVic and to each other. More than a dozen events are planned including talks, awards and social gatherings.
Monday, February 4
Sari Alesh is an internationally recognized violinist and an alumnus of the University of Victoria's English Language Centre. Sari was classically trained in Damascus and before the war broke out in Syria he toured Europe and the Middle East with the Syrian National Symphony Orchestra. Since arriving in Canada in February of 2016, Sari has been focusing on playing music again, continually improving his English and rebuilding his life in his new country. Join us for an evening with Sari to hear his music and his story. Free but registration is required.
Tuesday, February 5
Want to connect with employers in the tech industry? At the Hi-Tech Co-op and Career Fair, you can meet representatives from a wide range of companies all in one place. While this event is geared towards students in the Faculty of Engineering, all students are invited to stop by.
Wednesday, February 6
Missing your pet? Stressed about school? Come to the Interfaith Chapel to love-up some animals. Enjoy free tea, coffee, and cookies while connecting with cuddly creatures. This is a drop-in program and anyone is welcome to attend this free event.
English Conversation Cafe: ACCESS
The Academic Critical Communication in English Seminar Series (ACCESS/English Café) is an opportunity for all UVic students with English as an additional language who want to improve their ability to read and communicate in English within an academic context. Participants will practice reading and discussion skills in a relaxed atmosphere, receive coaching on vocabulary use and pronunciation, and get tips for developing confidence and ability in reading and writing. Free
Sunday, February 10
Aventa presents: Falling Angel
Rustic dances, quivering chords and metallic bass lines transform into lyrical lines, which are in turn interwoven, underpinned and saturated by rough, even abrasive textures. Such is the music of Britain's superstar composer Tansy Davies. Described by The Times as "music of grit and wit", Aventa presents the Canadian premieres of two of her most celebrated works – Aquaticfor percussion and English horn and the tour-de-force work for ensemble, Falling Angel.
Tuesday, February 12
Take an afternoon break to enjoy a concert of varied repertoire and instruments featuring UVic School of Music students.
Thursday, February 14
Reading: How She Read: Confronting the Romance of Empire
Artist-educator Chantal Gibson reads from her recently published book How She Read: Confronting the Romance of Empire (Caitlin Press). Gibson's work explores the cultural production of knowledge, and the overlap between literary and visual art, challenging imperialist notions quietly embedded in everyday things—from academic schoolbooks to kitschy souvenir spoons. Her visual art has appeared at the ROM in Toronto and MBAM in Montreal. An award-winning instructor, she teaches writing and design communication in the School of Interactive Arts & Technology at Simon Fraser University.
Tuesday, February 19
This Greek tragedy is the first play written about the brutal aftermath of war. Set against the background of the epic tale of the Trojan War, Euripides shifts our focus away from the conquering heroes. Instead, he tells the story from the perspective of the wives, mothers and daughters of the defeated Trojan warriors. These vanquished women have lost their families, their dignity and their sense of place in the world. They struggle with their grief and uncertainty as the victors decide their fate.
Education Workshop: Train the Trainer
Learn how to design and facilitate your own workshop from scratch. Understand the popular education model and its importance when educating about human rights and social justice issues. Apply principles of participatory adult education using real life scenarios. Open to everyone but space is limited - click the above link to email your request to register for this workshop.
Wednesday, February 27
BandFest is a non-competitive festival for concert bands featuring thirty ensembles from the Pacific Northwest. Participating bands will be adjudicated and will receive an on-stage clinic by an adjudicator. Plan to attend this free event and support students involved in music education!
Spoken word. Let justice prevail. Injustice off our path. Let your voice be heard.
---