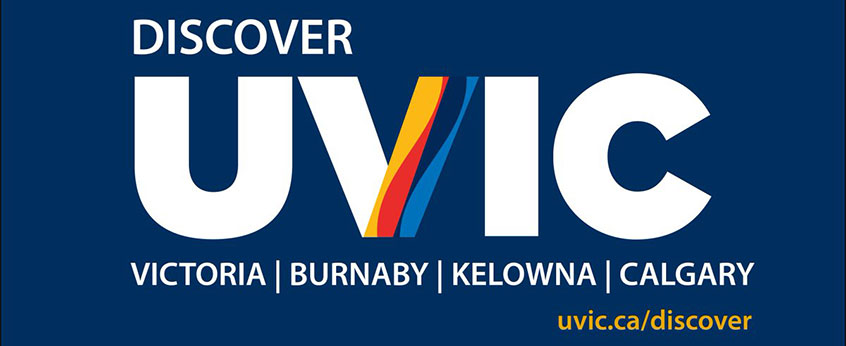 Here are highlights of events that our students can attend across campus in the month of December. To see all events on campus this month, go to the UVic events calendar.
December 1
Come to a Discover UVic event to meet with and hear from recruiters, admissions representatives and current students. Find out how UVic can help you accomplish your goals and connect with other future UVic students who share your interests.

December 3
This bookshelf-style app enables UVic students and faculty to browse, read, share, and save online journals directly to a tablet or smartphone, creating an ongoing personalized bookshelf of selected journals. This hands-on session facilitated by experienced UVic librarians will focus on the app version of BrowZine, so participants are encouraged to bring their devices.

December 4
Take an afternoon break to enjoy a concert of varied repertoire and instruments featuring UVic School of Music students.
SEOS Seminar - Dr. Roberta Hamme, Associate Professor
Attend a free lecture entitled "Ocean oxygen cycling from robotic and shipboard observations" through the School of Earth and Ocean Sciences at UVic.

December 7
Biochemistry and Microbiology seminar - Dr. John Rubinstein
Attend a free lecture entitled "Electron cryomicroscopy of macromolecular machines at energized membranes" by Dr. John Rubinstein, Department of Biochemistry, University of Toronto, The Hospital for Sick Children, Toronto, Ontario. Hosted by: Drs. Martin Boulanger and John Burke

December 10
The Rise of Princelings in China: Career Advantages and Collective Elite Reproduction
Recently, China's princelings - political elites whose parents are also political elites - have formed an influential group in China's top leadership. How have China's princelings benefitted from their family backgrounds in their careers? This study seeks to answer the question and in so doing to add to the existing factionalist and meritocracy approaches to Chinese political elites.

December 11
Intro to E-portfolios/teaching dossiers with WordPress (Teaching Documentation and Recognition Series)
WordPress is the most popular blogging platform on the internet. Many students and instructors in higher-education use the WordPress platform as a means to showcase their professional profile, research, projects, publications, and other academic work. UVic has its own instance of WordPress called the Online Academic Community (OAC). Students, faculty, and staff are welcome to use it for free. In this workshop, we will run through the basics of how to set up a new blog on the OAC. Then, we will focus on structuring your blog to be an online dossier. Part of this process will involve working with a WordPress theme and learning to customize blog settings via the WordPress dashboard and customizer.
---