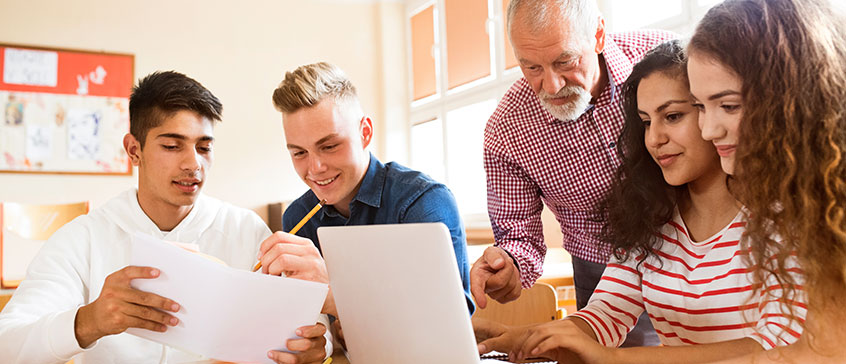 Historians in the Ring: UVic Scholars Talk About History's Most Divisive Quarrels
COURSE
Course description
FEBRUARY TEACHER PRO-D DAY
The University of Victoria is a great place for teachers to spend their professional development time. Join us this Friday, Feb. 23 for a fantastic opportunity to renew your inspiration and network with other teachers. You give your best to your students—now let the University of Victoria treat you.
An Enrichment Opportunity for History and Social Studies Teachers
If you teach high school history or social studies we want to connect you with the University of Victoria's Department of History. This day-long session, featuring talks by engaging and passionate history professors is your opportunity to be the student for a day.
You will be welcomed in the morning by John Lutz, chair of UVic's history department, who will highlight a few ways that you can reach out to UVic as a resource for your classroom and make the history department a partner in your students' learning.
Then, enjoy a day of stimulating learning and lunch with your colleagues as four UVic historians share their insight into some of the thorniest debates in their field.
Schedule for the Day
9:00 – 9:15 am
Sign-in and Refreshments
9:15 – 9:30 am
Welcome and Introduction
9:30 – 10:30 am

Causes of the 1948 Palestinian Refugee Problem: The Historiographical Debate

During the first Arab-Israeli War, 1947-1949, 700,000-800,000 Palestinians were displaced from their homes and country, and became refugees: they, and their descendants, now number over 5 million. The cause of the Palestinian refugee crisis continues to be a subject of contentious and polemical debate among politicians and journalists. This talk will focus on the ongoing historiographical debates, and consider how particular national narratives were initially created; how they were challenged and revised; and how contesting narratives might (if at all) ever be bridged.

Dr. Martin Bunton is a professor in the history department. He is author of Colonial Land Policies in Mandate Palestine (Oxford, 2006), and The Palestinian–Israeli Conflict: A Very Short Introduction (Oxford, 2013); and co-authors A History of the Modern Middle East (6th ed., Westview, 2016).

10:40 – 11:40 am

Complicity or Coercion: "Ordinary" Germans and the Holocaust

Thirty years ago the so-called "historians' debate" became front page news in Germany, with noted academics offering impassioned perspectives on the uniqueness of the Holocaust and its meaning in the present day. Ten years later the Goldhagen controversy erupted over the question of German complicity in the Nazis' "Final Solution". Today historians of the Third Reich continue to spar: Did the regime operate more by terror and coercion from above or depend on active collusion and support from below? Kristin Semmens will guide us through these debates and offer her own outlook on the issues.

Dr. Kristin Semmens is an assistant teaching professor in the history department and Holocaust education advocate in our community. She specializes in tourism and leisure in the Third Reich and investigates how the Nazi past has been remembered since the end of the Second World War.

11:40 am – 12:30 pm

LUNCH
A variety of sandwiches, salad and dessert will be served. If you have any dietary restrictions, please contact us at teacherprod@uvic.ca or 250-721-8944.

12:30 – 1:30 pm

Racism vs. The Fog of War: Why Were Japanese Canadians Uprooted, Interned and Dispossessed?

How should we look back upon treatment of Japanese Canadians in the 1940s, when thousands of people of Japanese descent, guilty of no wrong-doing, were uprooted, interned, and dispossessed of their property? Can and should we use our own standards to judge actions of a country at war? Is this the role of the historian? When this history is aired, whether by scholars or in public settings, such questions tend to arise. This presentation uses the research findings of the Landscapes of Injustice project—including powerful and newly digitized primary sources—to make a new contribution to this important Canadian historical debate.

Dr. Jordan Stanger-Ross is an associate professor in the history department and the project director of Landscapes of Injustice, a seven-year (2014-2021) national project to research and tell the history of the dispossession of the property of Japanese Canadians. Landscapes of Injustice includes elementary and secondary school teachers who are preparing and piloting teaching materials in British Columbia and Ontario.

1:40 – 2:40 pm

Who Saved the Whales?

By the late 1960s, many species of great whales were nearing extinction. Soviet and Japanese whaling ships were plundering the ocean, and few North Americans or Europeans showed concern for this crisis. Yet by 1982, the nations of the world had agreed to a moratorium on commercial whaling. Over the following decades, many claimed credit for this change: scientists, activists, politicians, the captivity industry. This talk will explore the historical and contemporary debate over who saved the whales and what it can teach us about current environmental issues.

Dr. Jason Colby is an associate professor in the history department. He is author of Orca: How We Came to Know and Love the Ocean's Greatest Predator (Oxford, 2018) and The Business of Empire: United Fruit, Race, and U.S. Expansion in Central America (Cornell, 2011).
Registration details
Online registration temporarily unavailable
Sorry, this course is not available for registration at this time.
This course is in progress. Please contact us for more details.
Online registration is closed for this course. You may still be able to register by phone. Call 250-472-4747 to find out.
This course is on your wish list. You will be notified when this course becomes available.