Student Feature: Kathryn Dafos
Public Relations: A Natural Fit for an Outgoing and Communicative Personality
By Kathryn Dafos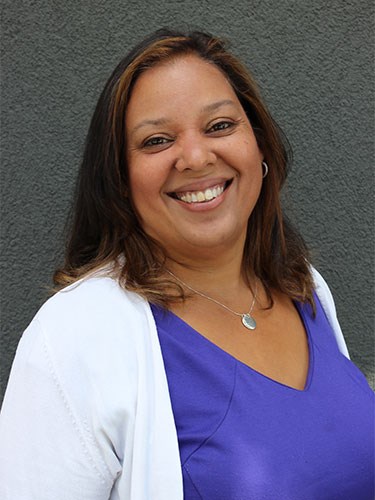 Public Relations really chose me more than I chose it. Throughout my life I've always been an outgoing and gregarious person who enjoys bringing diverse personalities together. From a career perspective, I've naturally gravitated to roles that allow me to interact with the public and work with people to achieve mutual understanding and consensus.
While considering a course of study that was aligned to my work, my employer suggested Public Relations saying "It's who you are and what you do every day, Kathryn. You might as well have the credentials to prove it." Once enrolled, I felt like I had found my educational niche.
After the introductory Public Relations Theory and Practice course, I dove head first into the deep end of the program - Communication Planning and Managing the Public Relations Function. These courses were life changing for me! I use the knowledge gained both professionally and personally. Communication Planning gave me the power to clearly articulate my vision when developing new projects, measuring objectives and creating the road maps to achieve them, while anticipating challenges and leveraging opportunities along the way. Managing the Public Relations Function built on these skills by enabling me to create comprehensive proposals that focus on the required deliverables and consider all of the hard and soft project costs. Practical application of these skills has empowered me to achieve positive results and increase benefits for my employers, as well as for myself when I undertake work as an independent contractor.
All of the courses in the Public Relations Program were incredibly valuable and added to my professional toolkit. In my current role as Economic Development Project Coordinator for the Greater Victoria Chamber of Commerce I have the privilege of working with VIATEC, South Island Prosperity Project, Tourism Victoria, all of the region's public K-12 and post-secondary institutions, municipalities and many other organizations. The skills I've gained enable me to identify common goals and foster collaborative stakeholder relationships that work toward creating family sustaining jobs and a strong regional economy.
Thank goodness for distance learning! The flexibility of online learning gave me the ability to study at my own pace while maintaining work-life balance. I could pursue my continuing education (often in my PJs) from the comfort of my own home or a hotel room while I traveled on business. Frankly, I don't know if I would have been able to complete the program had this option not been available. I never felt isolated while learning. The Moodle distance learning platform feels almost like a social media application where relationships with instructors and peers grow and flourish.
The Public Relations Program at the University of Victoria has been empowering in so many different ways. Studying at a world-class institution has built my self-confidence and professional credibility. It stretched my mind and broadened my horizons. I look forward to seeking my APR designation through the Canadian Public Relations Society and am excited about the new doors it will open. Professionally I'm doing my best to follow the advice of the father of Public Relations, Edward Bernays who said "Look for a situation in which your work will give you as much happiness as your spare time."
---
Program News
New Elective Course- Community and Stakeholder Engagement.
We are pleased to introduce a new elective course in the Diploma Program in Public Relations this Fall titled Community and Stakeholder Engagement.
This course examines key concepts in community and stakeholder engagement and how effective relationship building can lead to communication and organizational success. You will learn about internal and external stakeholder groups in different contexts, and examine the various methods and techniques used to facilitate community and stakeholder engagement. There will also be discussion of topics such as ethics, planning, relationship building, evaluation and conflict management.
The next offering of Community and Stakeholder Engagement is scheduled for May 2017.
---
Interview with Sarah Harasymchuk
The Instructor for Community and Stakeholder Engagement
What profession would you have chosen, if not public relations? Why?
Something in the social sciences like sociology. I've always been fascinated with the way people behave and that's why I love studying communications theory.
My proudest professional moment is …
I had the opportunity to work on a centennial video project for the Naval Reserve in 2010. I was honoured to be able to travel from coast to coast documenting the centennial celebrations.
What type of industry experience you have that brought you into the teaching environment?
My two main roles in the Canadian Armed Forces have been Naval Communicator and Public Affairs Officer; the latter being my current role. I was invited to instruct at the Defence Public Affairs Learning Centre in 2011 and that was my foray into the teaching environment. Prior to that I worked at the University of Saskatchewan in the communications department and at CTV News as a videojournalist/anchor.
What you like the most about teaching?
I feel successful when students are successful. When I am coaching a student in a particular area and he/she is able to internalize and apply that feedback to succeed, it makes me proud.
What career advice would you give to learners who are entering or advancing in public relations and communications?
Strive to become a well-rounded professional in all areas of knowledge, even those outside your field (but related to your workplace). This will help you build relationships internally, which is important for your credibility and advancement.
After a long day working, how do you unwind?
I enjoy high intensity exercise classes, reading and a nice glass of wine.
Which famous person (dead or alive) would you like to have dinner with?
I've always enjoyed watching Lisa LaFlamme on CTV News. She is an excellent journalist and it would be a delight to meet her in person.
What's your guilty pleasure food?
I'm not sure that I have one. I do love anything with chocolate and peanut butter!
I cringe when…
I see Donald Trump on TV.
Your main go-to is: desktop, tablet or phone?
I work on my laptop daily, but I also read for pleasure on my tablet.
Your dream vacation destination is?
Southern France.
Which words or phrases do you most overuse?
When I sailed on the HMCS Athabaskan years ago I had to pleasure to sail with several Newfoundlanders. One of them used to remark "Is that right?" quite often. I find myself still using that phrase. Newfoundlanders are the best comic relief at sea.
Which talents would you most like to have?
If I could fly that would be my top pick. Aside from that, I would like to be able to sing well.
---
Please note: all courses are subject to minimum enrolment and the schedule is subject to change. Early registration is recommended as courses can reach capacity quickly.
---
Convocation News
Congratulations to the thirty PR graduates who celebrated completion of the program in June 2016!
Jennifer Beaupre, Victoria BC
Natalie Bobrowich, Sidney BC
Malgorzata Bremski, Calgary AB
Karen Lynn Burton, Shilo MB
Darlene Flora Burton, Sherwood Park AB
Annette Campbell, Charlottetown PE
Melanie Carter, Surrey BC
Joanna Chellapermal, Seinajoki, Finland
Sarah Kaylin Clark, Saskatoon SK
Chantel Elloway, Coquitlam BC
Ann Evans Locker, Victoria BC
Amanda Nicole Fedorchuk, Regina SK
Kristi May Ferguson, Langley BC
Mo Ghoneim, Aurora ON
Leah Hendry, Montreal QC
Kent Rene Karemaker, Vancouver BC
Sabrina Carmela Licata, Edmonton AB
Kelly Lobb, Edmonton AB
Amanda Rebecca Bertram Martin, Calgary AB
Michelle Ann Clements Mitchell, Victoria BC
Heather Amanda Perdue, Abbotsford BC
Steliana Savova, Calgary AB
Karen Jean Shields, Victoria BC
Leithan Slade, Fort McMurray AB
Tracy So, Victoria BC
Carly Beth Turnbull, Medicine Hat AB
Susan Vasey, Orangeville ON
Tessa Anne Pino-Vecchio, Sault Ste. Marie ON
Laura S. Wolfe, Oakville ON
Sophie Wood, Victoria BC
The next convocation ceremony will take place in November 2016. All coursework must have been completed by August 31, 2016 for students to be eligible to participate. More information on convocation is available from the Ceremonies and Events Office.
---
Awards and Bursaries
Division of Continuing Studies Bursary
Each term the Division of Continuing Studies offers bursaries to assist learners in furthering their education. Bursaries are awarded to learners who can display evidence of a commitment to lifelong learning and who can demonstrate financial need. Application deadlines are January 15 and August 31. Applications are available online on our Info for Students page.
CPRS/CNW Student Award of Excellence
The CPRS and CNW Group offer a Student Award of Excellence. This award recognizes student excellence in the PR field. Eligible students must be currently enrolled in their final year (or equivalent) of a recognized, full-time PR program, instructed in a Canadian post-secondary institute. Students must be studying at an undergraduate, diploma or certificate level. For further information, application forms and deadlines visit the CPRS website.
---