Interview with Dr. Faith Collins, Founder of the Public Relations Program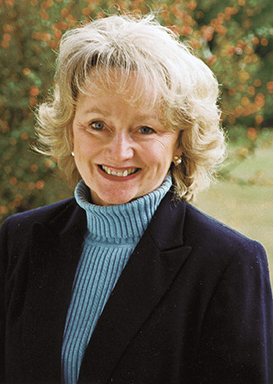 We recently had the opportunity to sit down with Dr. Faith Collins and ask a few questions about the Public Relations Program. Learn how it began and what it has become. Below is part of this conversation in a question and answer format.
When did you start the Public Relations Program?
I began researching the Certificate in Public Relations in 1994. This program was approved by the University of Victoria Board of Governors in May 1995.
Why did you start this program?
At the time Industry Canada predicted Public Relations would be one of the fastest growing professions over the next twenty years.
How did you determine the need for a program?
I researched existing programs in the field and established an academic Steering Committee consisting of faculty, and senior professional practitioners. The Canadian Public Relations Society supported this initiative.
I also developed a needs assessment survey for employers and employees, the survey strongly indicated there was a need for a part-time program. At the time of the survey they also indicated at least fifty percent of those surveyed favored a distance education format.
The program is now by distance education. What made you shift the format from a face-to-face program to a distance education program?
The shift in format delivery came about by sheer demand. We attempted to meet this demand by offering the program face to face in Vancouver at the same time as Victoria. We then began receiving requests from smaller communities, and beyond British Columbia so it became apparent distance education would be a natural next step to meet this need. We offered the first public relations course by distance education in May 2002.
What are the benefits of this program being offered through distance education?
I believe there are so many benefits for adult learners by taking programs offered by distance education. Adults have multiple demands on their time and this flexible program allows students to learn at their pace. It enables students who live in rural communities to have equal access to higher education. This format gives students more options and those who have more discretionary time can also fast track through the program completing it in just over one year.
This is now a diploma program. What made you apply for a credential change from a Certificate to the current Diploma in Public Relations?
This was most fortuitous, as the University of Victoria changed their criteria for a diploma to match those of other Canadian Universities. As this announcement was made we made the application to have the Certificate Program in Public Relation considered for a Diploma. It was an extensive process which began in early 2010. One of the criteria for the change was to ensure the majority of the courses offered in the existing Certificate were at the equivalent of third and fourth years courses in an undergraduate program. It was necessary to have a University with an undergraduate program in Public Relations review our curriculum. Mount St. Vincent University was the first undergraduate degree in Public Relations in Canada. They provided the evaluation and supported our application for the change in credential. As well we received many supporting letters from members of the Steering Committee and senior practitioners in the field. Given the program is offered nationally by distance education it is important that the credential be consistent with other recognized programs across Canada. The University Senate and Board of Governors approved this proposal and thus we have a Diploma in Public Relations.
Where are graduates of this program employed?
Our students and graduates are found in all sectors including: private, three levels of government, universities, and not for profit organizations.
It has been almost 20 years since the first course was offered. Did you think this program would be so successful 20 years later?
As there was a pent up demand I envisioned we would grow dramatically. We offered our first course—Public Relations Theory and Practice—in the fall 1994 before the program was approved. At the time we were not able to ensure students of the pending approval. Within two weeks of the start of registration the class reached its maximum of 40 students and a wait list was established. This was indicative of enrollments to come. The distance education format was another solution to keep up with the market-needs.
What has made this program so successful throughout the years?
There are so many reasons for the program's success. The Steering committee keeps us abreast of changes in the field so that we can update and revise curriculum. An excellent and recent example of this is the addition of the new elective: Social Media for Public Relations. The senior professional instructors from various fields bring their experience to the curriculum. The curriculum meets the needs of employers. Our students are well supported through Library Services, Online Help and students and instructors have strong administrative support. We listen and respond to our students through the evaluations. We attend professional association meetings to maintain currency and understand changes in the field and have the support of these professional associations.
Where do you see this program in 10-20 years?
I believe the demand for the Diploma Program in Public Relations will continue at a steady rate. Industry will change and we will change to meet the new needs of industry by maintaining relevant and current curriculum.
Best wishes to all the students for your successful completion of the Diploma and career in Public Relations.
---
Program News
New Elective Course
The Diploma in Public Relations is pleased to introduce a new elective course this Fall titled HPPR450: Social Media for Public Relations. In this course, students explore a variety of social media tools, along with the techniques to effectively use them. Students apply the relationship building aspect of social media and learn how to integrate these new practices into an overall social media strategy. They examine the art of monitoring and measuring metrics to determine the effectiveness of social media strategies, utilizing current evaluation tools and methods. Pre-crisis planning tactics will also be integrated into strategic planning, with the awareness of the legal and ethical considerations that surround this new communication model.
The next offering of HPPR450 Social Media for Public Relations is scheduled for Summer 2015.
---
Convocation News
Congratulations to our 2014 PR Graduates!
Lori Nadine Bell, Medicine Hat AB
Emily Theresa Brennan, Riverview NB
Janice Carey, St. John's NL
Erica Dawn Christensen, Flin Flon MB
Kathy Darlene Cloutier, Brentwood Bay BC
Summer Constance Effray, Kelowna BC
Amanda Michelle Eid, St. John's NL
Kelly Dawn Fairbrother, Saskatoon SK
Colleen Margaret Fitzpatrick, St. Clements ON
Kathleen Marie Gallagher, Nanaimo BC
Jason Richard Harnett, Simcoe ON
Grace J. Kim, Vancouver BC
Julia L. Kingsley, Victoria BC
Shauna Marie Kinney, Edmonton AB
Sloan Marie Lauinger, West Vancouver BC
Megan Susan Matthies, Strathmore AB
Amanda Renee Molloy, Conception Bay South NL
Nancy J. Mulock, Halifax NS
Elana Ingrid Nicholls, Victoria BC
Rebecca Sylvia Ruskin Penz, Victoria BC
Anthony Dean Ridley, Victoria BC
Alisha Statsmann, Kamloops BC
Elsa Yan, Victoria BC
Donna R. Zimmerman, Victoria BC
Christina Maria Doll, Prince George BC
Marisa Christine Hughes, Victoria BC
Amandah Marie Turner, Charlottetown PE
The next convocation ceremony will take place in June 2015. All coursework must be completed by April 30, 2015 for students to be eligible to participate. A $40 fee applies. More information on convocation is available from the ceremonies and events office.
---
Awards and Bursaries
Each term the Division of Continuing Studies offers bursaries to assist learners in furthering their education. Bursaries are awarded to learners who can display evidence of a commitment to lifelong learning and who can demonstrate financial need. Application deadlines are January 15 and August 31. For more information, please see the Info for Students page.
The CPRS and CNW Group offer a Student Award of Excellence. This award recognizes student excellence in the PR field. Eligible students must be currently enrolled in their final year (or equivalent) of a recognized, full-time PR program, instructed in a Canadian post-secondary institute. Students must be studying at an undergraduate, diploma or certificate level. For further information, application forms and deadlines visit the CPRS website.
---