Student Profile: Jennifer Cox, graduate of the Diploma Program in Public Relations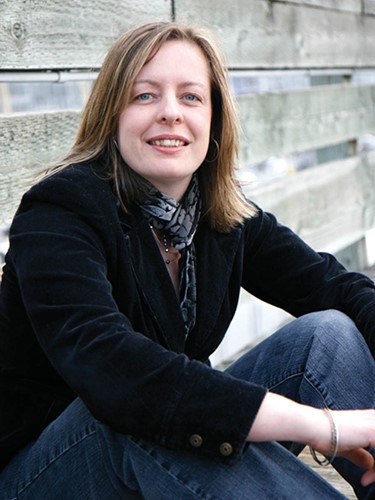 Jennifer is feature editor of the Comox Valley Record's About Town publication. In addition, she has taken on a role as coordinator for Active Comox Valley (an initiative of the Comox Valley Regional District), providing public relations, communications and event planning coordination to promote active living in the community.
"This program gave me the credential to step forward and demonstrate new skills to my employer."
For more information, please read Jennifer Cox's Student Story page.
---
One of our students, Amanda Molloy, is a recent recipient of the 2013 CPRS / CNW Student Award of Excellence - Read More.

Well Done Amanda!
---
Did you know… ?
...that you can look up your own client statement and print an unofficial transcript for your files? In an effort to streamline and green procedures we phased out paper-based records of grades. Just visit the Continuing Studies home page and login with your NetLink ID. Click on My Reports on the left-hand navigation bar and choose the option you are seeking. If you still need a record of grade from us, please do not hesitate to contact the office.
...that you have the first six days to officially withdraw from a course? The administrative fee associated with course withdrawal will be $75 effective January 2014.
...that there are bursary and scholarship applications available for you?
Each term the Division of Continuing Studies offers bursaries to assist learners in furthering their education. Bursaries are awarded to learners who can display evidence of a commitment to lifelong learning and who can demonstrate financial need. Applications are available online. Application deadlines are January 15 and August 31.
The CPRS and CNW Group offer a Student Award of Excellence. This award recognizes student excellence in the PR field. Eligible students must be currently enrolled in their final year (or equivalent) of a recognized, full-time PR program, instructed in a Canadian post-secondary institute. Students must be studying at an undergraduate, diploma or certificate level. For further information, application forms and deadlines visit the CPRS website.
---
Convocation news
The next convocation ceremony will take place in November 2013. All coursework must have been completed by August 30, 2013 for students to be eligible to participate. A $40 fee applies. More information on convocation is available from the ceremonies and events office.
Congratulations to our 25 spring 2013 PR graduates!
Kendra Burton, Edmonton, AB
Krista Cain, Victoria, BC
Fiona Campbell, Victoria, BC
Cherylynn Downer, Churchill Falls, NL Â
Robyn Hickey, Toronto, ON
Laura Hunt, Victoria, BC
Mandeep Jawanta, Edmonton, AB
Sara Jensen, Stony Plain, AB
Jasbir Lehail, Kamloops, BC
Sandra Lewis, Port Coquitlam, BC
Jenelle, Linehan, Colinet, NL
Stephanie Masun, Lac La Hache, BC
Robin Matthews-Osmond, Paris, ON
Kelly McCrae, Stonewall MB
Nicole McLuckie, Vancouver, BC
Sabine Merz, Gross Wittensee, Germany
Jill Moore, Ashcroft, BC
Lianne Olson, Burns Lake, BC
Callayna Pasternak, Vancouver, BC
Robyn Pawson, Calgary, AB
Jag Sandhu, Edmonton, AB
Meghan Schroeder, Toronto, ON
Melissa Simpson, Calgary, AB
Sandra Sualim, Toronto, ON
Breanna Willoughby, Summerland, BC
---