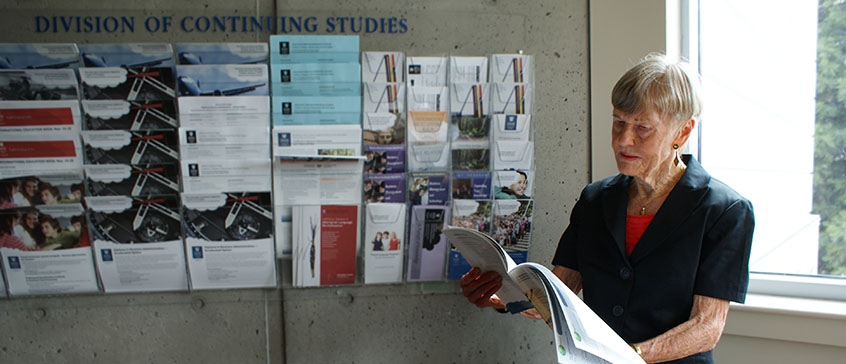 "Nan" Walmsley celebrates her 90th birthday this year but shows no sign of slowing down in her quest to learn new things. Since fall 1998, she has taken around 165 courses through Continuing Studies. That's an average of about 12 courses per year.
"It's my garden for summer and then UVic for the winter - that's how my year is structured," she explains. "UVic has become a second home for me."
Walmsley's memories of UVic go back as far as the Victoria College days when she was studying towards a BA. Craigdarroch Castle seemed a very romantic setting, she recalls. Her love of music was also instilled in those early days. Dr. W. Harry Hickman (for whom UVic's Hickman building is named) was teaching French but added what he called "a taste of music" during the lunch hour.
Walmsley loves the music courses offered through Continuing Studies but her interests also range from archaeology to current global politics to issues around genetically altered and organic food. Local history is also an interest - even when you've lived in one place for a long time and think it's familiar, digging a little deeper can take you on surprising journeys of discovery, she points out.
Life's a pretty good place when you're interested in it.
- Nan Walmsley
Walmsley's career after graduating from UBC in 1944 took her into social work at a time when the field was very much a new one in British Columbia, so Walmsley found herself very busy building her professional career and travelling. Two years later came marriage and the raising of four children. While she was expecting her fourth child Walmsley's husband fell victim to the polio epidemic - a huge challenge that necessitated her returning to work. Career advancement eventually brought her from Courtenay to Victoria as a district office supervisor and then as a consultant in the area of child welfare.
When she retired in 1984, Walmsley started auditing courses at UVic in various departments. She also started taking evening courses through Continuing Studies - to keep her French in tune amongst other things - and also made a great friend who was taking a degree in fine arts at the age of 70. Walmsley takes the view that pursuing an interest that's important to you is also a good way to meet people with whom you're compatible and who inspire you to do more. That aspect of continuing education is as rewarding as the knowledge you're acquiring, she notes. "I guess I enjoy socializing that has a particular focus rather than just for its own sake," she says.
Walmsley seems to thrive on challenges and continues to explore the wide range of courses available. "You can sit around finding reasons to say 'I can't do this or I can't do that,' or you can say 'why not?'" Earlier this year, prevented from taking a Travel Study tour to the Middle East because of political unrest, she switched to another Travel Study program and plunged into the culture of New York City on a nine-day tour led by Robert Holliston.
Over the years Walmsley has been pleased to see the growth of adult education through Continuing Studies. She finds the variety of courses is very appealing and provides the stimulation and challenge she looks for in life.
"It really is true that you can learn something new every day," she says.
How does she decide what to choose each season? "Sometimes it's picking up an old interest that I haven't been able to give much time to," she explains. "Or I just pick something that sounds intriguing and a little mysterious. I know it'll turn out to be absorbing - the instructors are always so passionate about their subjects.